You are here:
Home
/ Archives for Card Messages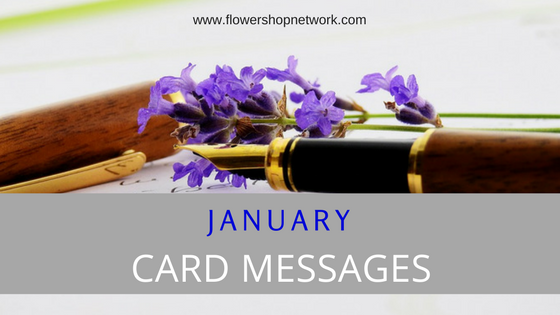 January brings the beginning of a new year. These care messages are sure to get you off to great start! [Read more…]
December is for celebrating and gift-giving! Whether you are sending a beautiful Poinsettia to your mom or ordering a festive flower arrangement for a hostess gift, keep reading to find the perfect card message!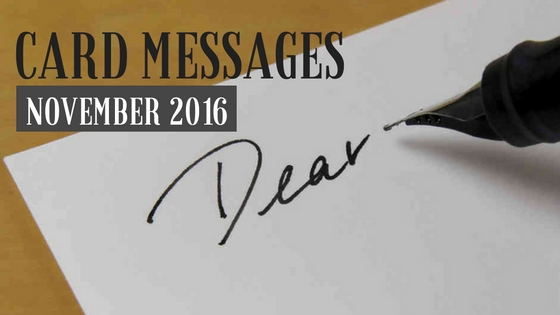 Make any occasion this month extra special with a personalized card message! Words have the ability to touch hearts and impact lives. Find inspiration and creativity with these examples below!
November 11th – Veterans' Day
"I feel so proud and honored to know a person like you. Thank you for your service."
"Today we honor you. Thank you for serving this country and protecting our freedom."
"A big salute to you for the heroic deeds and sacrifices you have made. Thank you for your service."
A thoughtful card message along with your gift of flowers will touch the heart and leave a lasting memory. Here are some examples to help you find the right words to say for the holidays in October!
Boss's Day
"You are the first boss I have truly looked up to. Thanks for being a great example and wonderful boss."
"Happy Boss's Day to the person whose job I never, ever, ever, ever want."
"You are a great leader and I'm lucky to be on your team. Thanks for leading us with integrity and fairness."
"It takes a special person to be a great boss and you are doing excellent."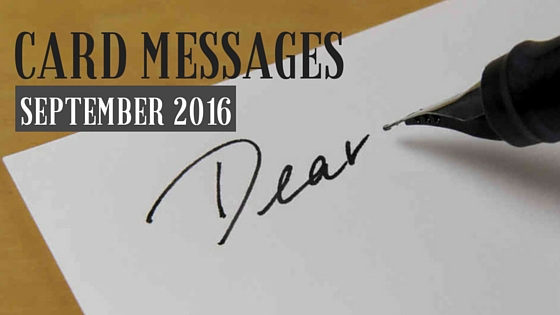 Are you wondering what to write in your card message? No worries, we have plenty of examples to get you started! Keep reading for some great card messages for the major holidays in September.
Grandparents Day
Thank you for telling me your stories and sharing your many years of experience and wisdom. I'm a better person for having learned from you. Happy Grandparents Day.
You inspire me to be a better woman/man! Thank you for being my role model and for giving me so much love. Love and miss you! Happy Grandparents Day.
Love is the greatest gift that one generation can give to another, and you have given me so much!
Sending flowers for a funeral is a very appropriate way to show your love to someone that is going through a very difficult time. Many times you will have the opportunity to include a card message with your flowers. Writing a note for this circumstance is always challenging. The right words though can bring comfort and show your unwavering support. Don't shy away from your chance to lift spirits!
Here are some short and long examples of funeral flower card messages. Use these as a guide and customize them to add a personal touch.
Short Note:
Know that you are in our thoughts and prayers.

Thinking of you during this difficult time.

May your soul and heart find peace and comfort during this time.

Forever in our thoughts.

May these flowers in some way help to express our heartfelt sympathy.

I hope these flowers remind you of my love during this time.

These flower are sent with remembrance and love.

Loved and remembered always.
Longer Message:
Wishing you peace and comfort during the days to come. Remember that I am always here for a

shoulder to cry on or a friend to support you.

May you have memories for comfort, friends for support, and flowers to ease your sadness.

As you grieve know that we are remembering you and honoring the memory of "name of the deceased". I remember when… (including a fond memory is a great way to make your sympathy gift personal.)

A great soul serves everyone all the time. A great soul never dies. It brings us together again and again. ~Maya Angelou

When you are sorrowful look again in your heart, and you shall see that in truth you are weeping for that which has been your delight. ~Kahlil Gibran
Find your local florist and order a beautiful sympathy arrangement today. Don't forget to have your card message ready!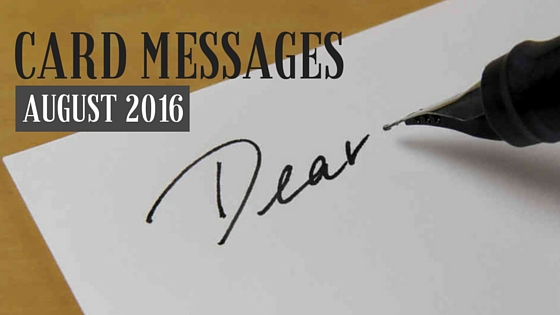 It's always nice to have a thoughtful message going hand in hand with an arrangement of stunning blooms. Below are card message ideas to inspire the act of giving and the writer in you!
International Friendship Day
"A true friend is the greatest of all blessings. I'm so thankful for you."
"Thank you for your friendship throughout the years. I couldn't imagine going through life without you."
"Your friendship is a special gift, generously given, happily accepted, and deeply appreciated!"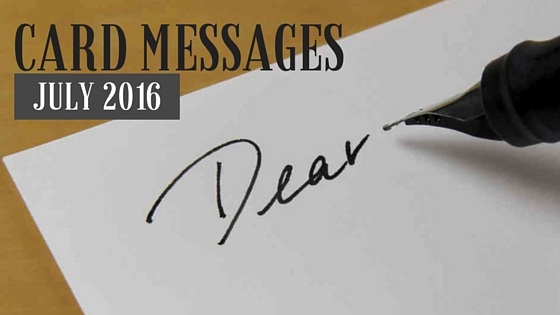 With Summer heating up, don''t let your card messages cool down!  Here are a few ideas to keep your messages feeling as warm as the sun.  
International Kissing Day
From our first kiss to our last, kissing you is one of my favorite things to do.  
If each petal represented a kiss, know that I would keep each one forever.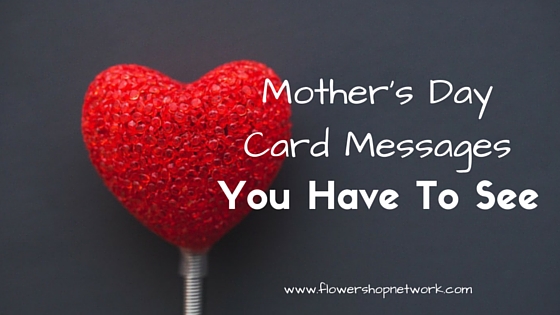 A sweet card message is the perfect compliment to a beautiful bouquet of flowers. We saw many Mother's Day messages with heartfelt memories and hilarious stories, all testifying to the strong bond between a mother and child. Some messages were very creative and some even made us laugh out loud! Take a look at this list of our favorites. 
"Happy Mother's Day, you're the best. For as practical as a person you are, I can't believe you decided to invest in your son's banjo album- ARE YOU NUTS? Ah well, while we wait to see if it pays off here's some chocolates."
A thoughtful card message is the perfect compliment to any flower arrangement. It can be difficult though to express exactly what you are feeling. Take a look at some of these card message suggestions to get you started.
Father's Day
Dad, you are my hero and role model. Thank you for always supporting me in everything I do. I love you!
A Father is neither an anchor to hold us back, nor a sail to take us there, but a guiding light to show us the way. Thank you for always steering me in the right direction, Dad. I hope you feel extra loved today.
Some of my favorite childhood memories have been with you Dad. Thank you for loving me just the way I am.