June 13th, 2012 | By: Mandy Maxwell
The Florida State Florist Association's 2012 Annual Convention was this past weekend on Hutchington Island in Florida. With a show titled, Paradise, you knew you'd be in for a treat, and our own Leslie Cox was the lucky FSN team member to attend.
Paradise is the perfect time to learn, gather in friendship, shop the venders in the tradefair, view competitions and show your overall support of the floral industry in Florida by supporting FSFA.  – Steven Day, AIFD CFD & Paradise Chairperson
Floral Designs From the 2012 FSFA Annual Convention
Of course the Florida State Florist Association's convention is going to use TROPICALS! They were definitely on everyone's mind during this show themed Paradise. Check out these bright and cheery floral designs, perfect for kicking off summer!
Wedding Designs From FSFA Convention 2012
The bright colors followed over to the wedding designs at the FSFA show. It's easy to imagine any beach bride carrying one of these on her big day. Garden roses were definitely in, but you can still taste the tropics.
Competition Floral Designs From FSFA Convention 2012
This year's competition asked designers to create something inspired by the bird of paradise flower against a black background. Here are the beautifully crafted designs they came up with. (Sorry the pictures are dark, very hard to take pictures against such sunny windows)
Centerpiece Designs from the FSFA Convention 2012
Centerpieces for the event of course included birds of paradise and other tropical elements. Guests enjoyed these magnificent designs as they dined.
Misc Pictures from FSFA Annual Convention
Overall it was a great show with lots of tips and tricks for all level florists. Below you can see Josh Williams, FSMD, during his presentation, "Bringing Natural Beauty to a Modern Audience." Josh won last year's coveted Florida State Designer of the Year award. Josh is lead designer at Crevasse's Regency Florist in Gainsville Florida.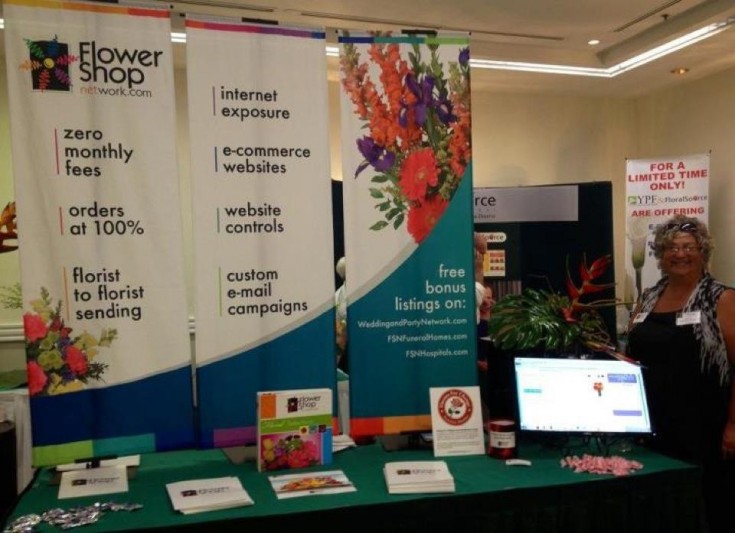 Above is FSN's Leslie Cox at the Flower Shop Network booth. She is also the one who was kind enough to take all these photos, thanks Leslie!
Find a Florist Convention To Attend
---
---