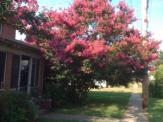 Ask The Expert: when can i plant crypt mytrles
i need to know this and how do i care for them.i also need to know some spring flowers to plant in my flower bed ,the flower bed is shaded. Sue
Plant Expert Reply:When to plant crapemyrtles depends on where you live. If the plants are container grown and not B & B, you can basically plant them any time.  That is if the ground is not frozen. In my zone 6-7, we begin planting our crapemyrtles in mid-Sept and quick planting them end of November.
Plant crapemyrtles in full sun. In partial shade they will grow but not bloom.
****B & B means ball and burlap. These plants are dug up and wrapped in burlap.  You can then take the plant and transplant it into your own yard. Timing is crucial with these types of plants and revolves around when the sap is up or down. Because the roots have been cut in the process environmental factors have more of an impact on the sucess of these plants.****
Container grown plants are grown in containers. Their roots are never cut. As the plant out grows its container, it is bumped up to a large container. As a result environmental factors may have an impact but usually not as much as the b & B.
Spring flowers for a shade bed, again depend on the area in which you live. Try pansies, violas, and snapdragons and dianthus.