August gives us many reasons to celebrate those we love. Whether it be just because, to celebrate a birthday, or to congratulate someone, the reasons are truly endless! Flowers are the perfect gift for every occasion because they are guaranteed to bring a smile. Here are some special holidays you can celebrate in August!
1) International Friendship Day – August 7th
It is not every day that we get to thank our friends for the support and love they have shown over the years. The first Sunday in August is your chance to surprise a friend with a beautiful flower arrangement! They will feel extra loved knowing that you were thinking about them.


2) International Forgiveness Day – August 7th
Flowers are known for dissolving disputes and rekindling friendships. Take a step towards forgiveness by sending a flower arrangement on International Forgiveness Day. Your grand gesture will leave a lasting impression and will hopefully get the relationship back on track.


3) Middle Child's Day – August 12th
Everyone knows that the middle child of a family tends to get overlooked. They are always compared to the oldest child and never given as much attention as the youngest. If you know someone that has had to struggle with being a middle child, show them that they are special to you by sending them flowers!

4) Back to School
Send your children or nieces and nephews back to school with a big smile on their face! A beautiful flower arrangement made especially for them will help get rid of those first day of school nerves. It may seem like a small gift but your support will mean the world to them!


5) Just Because Day – August 27th
The greatest gift is that which no one expects! Let your lover or a relative know that you are thinking about them by sending flowers on Just Because Day. This special day calls for acts of kindness. Sending a gift without a reason is the perfect way to spread happiness and cheer!
Head to your local florist and find the perfect arrangement for the occasion of your choice!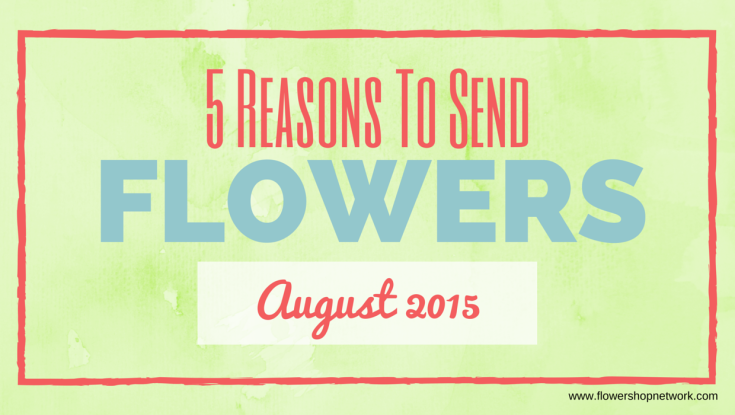 There is always a reason to celebrate. Whether it be a birthday or a silly holiday, here are just some of the reasons to send flowers in August.
1. Happiness Happens Day – August 8th
This holiday was created by the Secret Society of Happy People to encourage its members to think about happiness and incorporate it into their daily lives. Today, send flowers to those involved in your happy memories and remind them how special they are. A dozen roses to your wife, or bonsai or exotic flower to a relative will bring happiness to a simple day!
2. Son and Daughter Day – August 11th
Just like we have Mother's Day and Father's Day, we too have Son and Daughter Day! This day is all about the kids! Let them know how much they are loved and if those kids already have their own home, flowers will definitely make that a happier place.
3. Relaxation Day – August 15th
We all have at least one person in our lives that just never stops. They basically live at work and only take time to breathe. Flowers are not only appealing to the eye, but also give a sense of calmness and relaxation. A beautiful bouquet of white blooms with greens is very soothing and great for that hard worker in your life!
4. Be An Angel Day – August 22nd
Jayne Howard Feldman created this day to inspire people to perform acts of kindness. It can be something as simple as complimenting people as they walk down the street or by simply giving a gift. A beautiful mix flower arrangement or a dozen red roses from the local florist is perfect for someone who doesn't expect it. Put a smile on someone's face this day!
5. Just Because Day – August 27th
Today is the perfect day to say "Just Because." Who knew this was actually a holiday! Surprise a loved one with a dozen roses, remind them how no special occasion is needed to receive beautiful blooms and gifts.
This month is all about making people happy! Be it by giving flowers or performing an act of kindness, the purpose always is to make people smile. Head to your local florist because flowers will do the trick!