Irises are beautiful flowers that are often used as accents in floral design. With a unique shape, they add a special element to any arrangement. They have a rich history and are great additions to any floralscape. Learn more fun facts about these beauties below!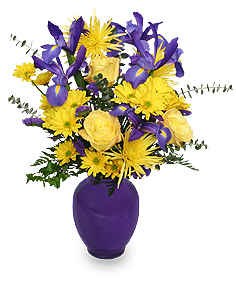 The iris is the birth month flower of February, the 25th wedding anniversary flower, and the state flower of Tennessee.
Bearded irises actually only have 3 petals, the other 3 "petals" are large sepals.
The Iris has been around for a while. There is a fresco painting located in King Minos' palace of the Island of Crete in Greece. The palace was built around 2100 BC.
The "Fluer de Lis" is a graphic representation of the iris.
The iris is often seen as a flower of royalty and power.
There are bearded and beardless irises.
The Louisiana, a variety of beardless iris, is native to the United States, and is found wild on the Gulf Coast.
The "beard" on a bearded iris is a fuzzy appendage located above the falls, or lower petals.
The roots of irises contain their fragrance.
Irises are available in many colors, but most commonly are purple, blue, white, and yellow.
Call your local florist to order a beautiful arrangement of irises today!