We are excited to recognize Flowers By Emslie & Company for serving the Barre, Vermont area for almost 120 years! This local flower shop opened in 1897 and has been thriving ever since.
Two cousins originally opened the flower shop and grew their own vegetables and flowers. The cousins used a wooden sleigh pulled by horses to deliver their goods to customers. A coal burning stove was used during the winter time to keep everything warm.  The sleigh remains in the shop today and is still used as a beautiful display shelf.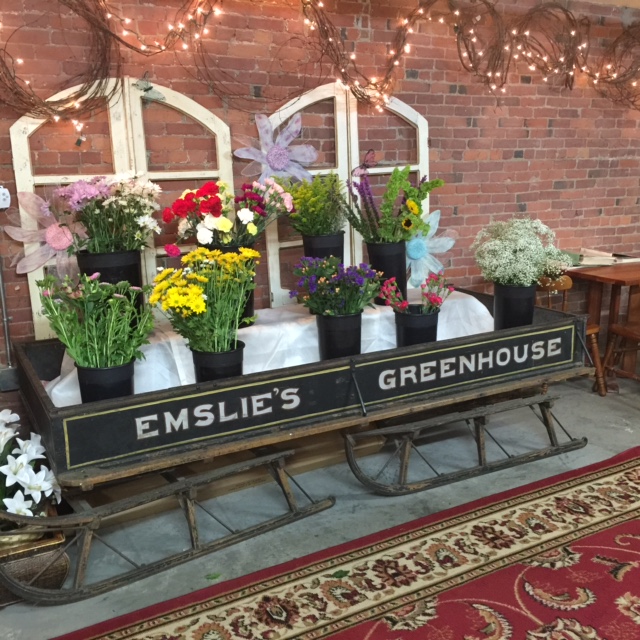 Shirley, an employee of Flowers By Emslie for 35 years believes that excellent quality is what has kept the shop thriving. She said, "When people think of flowers they think of Emslie's and it's because we have been around for so many years. When people call our shop they know they are going to receive fresh, beautiful flowers." Flowers By Emslie has earned a strong reputation and is looking forward to serving high-quality arrangements to their customers for many years to come.
The shop is now owned by Jenni Jenkins who is dedicated to keeping traditions of the past alive. She even grows her own flowers to sell in her flower shop like the original owners did. Jenni said that when people return to town they are always overjoyed to see Flowers By Emslie still up and running. Jenni mentioned that just a few weeks ago two elderly women walked into the store and were actually the last living relatives of the original owners. They were pleased to know that the Emslie name and traditions still live on. In the shop you can also find memorabilia hanging on the walls from the past like this antique calendar.
Customers always leave outstanding remarks about the service and quality of the arrangements from Flowers By Emslie. Rebecca said this about her experience, "Checkout was easy, and my mother said her birthday flowers were beautiful. As someone who grew up in Barre, I'm happy to see Emslie's still in business and thriving. Thank you!" Only at a local florist will you find this type of dedication and service.
FSN is grateful to be partners with Flowers by Emslie for over ten years now. Thank you for your dedication to the floral industry and to providing your customers with excellent arrangements and service!
Find a florist near you to order a beautiful arrangement today!