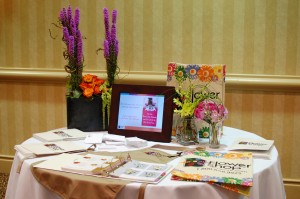 Yours truly (Mandy) from Flower Shop Network attended the AIFD Southern Conference in Chattanooga, TN last weekend.
What a spectacular event it was: fresh flowers, amazing setting, (the Chattanooga Aquarium is amazing, especially filled with flowers) and delectable food — I didn't want to leave!
Friday was all about the student competition. Young girls from Mississippi State were a real showcase of upcoming talent in our industry. (Even the floral veterans were impressed.)
I was really looking forward to Friday Night's reception at the Chattanooga Aquarium, however, I was a little unsure as to why were were having a floral event there. Within minutes, I understood — inspiration was everywhere! The vivid colors and beautiful sea life were pleasant refreshers to the senses.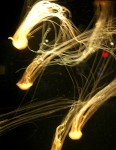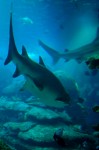 I can't think of a better way to open a conference called "The Attraction's Only Natural," than a night at the aquarium — wining, dinning, and mingling. But we all but took a side step as we all stood with our faces pressed to the 650,000 gallon aquarium glass, and watched the sharks swim by like children. A much-needed, relaxing evening to a busy weekend.
With muses dancing in our heads and our bellies full of the world's best pastries, we all went to bed, eagerly awaiting the next day's masterful presentations by leading floral designers.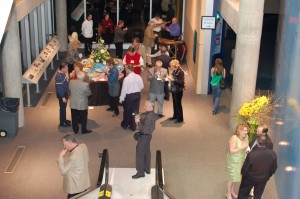 First thing the next morning was our sponsored presenter, Linda Robinette, AIFD, CFD's presentation. Entitled, PHI "The Golden Proportion," it explored man's primordial attraction to proportion through the Fibonacci theory. In other words, the mathematical reasons why something is beautiful. The golden ratio is 3 : 5: 8, or if you had 8 equal parts and divided them into 5 parts and 3 parts.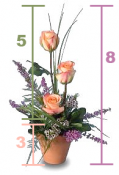 In floral terms: your entire arrangement is 8 parts, your flowers are 5 parts and the vase is 3 parts (for the average arrangement). Of course, design rules are made to be broken, but it is an interesting theory.
From Big Sky Country, Larry Kramer, AIFD, CFD showcased his amazing talent for building unique armatures. Larry explained that he lived 6 hours away from his nearest fresh flower wholesaler, so he has learned over the years to use each and every piece of his flowers. Reduce, reuse, recycle is more than a philosophy to Larry — it's an everyday practice.
For instance, instead of using floral foam for his arrangement base, he uses old stems and grasses to make a sturdy grid. (Very similar to our design technique video: Enhancing a Vase Using Curly Willow.)
For instance, the above container is filled vertically with Equisetum (horse tail) and the delicate yellow Oncidium orchids are inserted between them. The Equisetum is enough structure to keep the stems in place without using foam, tape or anything non-organic. Larry then takes stripped plumosa fern stems and expertly weaves them into the orchids to create this wonderful linear texture.
Greg Brown AIFD, CFD and Larry Hammack who operate a LEED-Certified Green floral business in Atlanta, also did a fabulous job with their presentation. Entitled "Green i$ the Color of Money," these guys wowed the mostly floral designer crowd. Their extremely green practices seemed a bit over the top, but once you see them in action, you think "Maybe I can do that for my shop." The duo came with a host of great ideas from their "Green Bucks" in store credits, to their unique moving-modular store layout, the crowd was hooked.
When the two redesigned their shop, they vowed make it as "green" as possible. Their presentation outlined every step and how to do it for your own shop. I loved the modular store layout idea. Picture this: Your store 100% open with each of your stations on wheels, walls on wheels — even offices can be moved around. Now imagine how it would look for Christmas, or better yet, hosted workshops or events. You can move, hide and rearrange at your hearts content. I loved this idea!
He said the passersby love peeking into the windows to see the florists hard at work. Also the lack of hidden storage keeps them from hoarding the things that usually end up in the dreaded back room. (I'm sure we all understand this!)
After their power point slide show, they began to bring out their arrangements. I swear I heard a few florists' jaws hit the floor! As an artist myself, I always appreciate the skill and artistry used in floral design, and these were unparalleled. Greg's skill with color harmony was what I think got to me the most. A perfect balance of light and dark greens with flowers paired equally well. Very inspirational.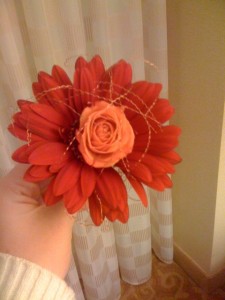 The last big event of Saturday was the Presidential Gala. The Mississippi State students competed in a "Flowers To Wear" competition and sold corsages to everyone prior to the dinner. The above picture was my corsage. I loved the copper wire around the giant gerb and rose. (Got lots of compliments too!)
The dinner celebrated the wonderful AIFD Southern Chapter President, Wendy Childress AIFD, CFD. (She really is a sweet lady!) There was dining, dancing and wonderful conversation to follow.
What a day. Being surrounded by so much beauty at once was almost overwhelming, but trust me, I did not want to leave. I think every florist should attend a show like this at least once a year. There is some little part of every type of artist that comes alive when they are in the company of other inspiring artists. I know each and every one of us took away so much from this conference. We will be riding a wave of inspiration for months afterward!
A special thanks to Jay Borton, AIFD, CFD, the conference coordinator, who helped me so much while I was there. I don't think I would've made it without you!
I would also like to give a big "Howdy" to all the wonderful ladies I got to meet who follow us on Twitter and Facebook! I hope next time I get to meet even more of you!
View All Of Our Photo Album From The Trip On Facebook