Last weekend, Flower Shop Network attended the Arkansas Florists Association's 60th Annual Convention – the Diamond Jubilee! AFA took pride in their past as they remembered their long heritage of florist greats.
Speaking of diamonds, the Flower Shop Network booth was full of shimmer with this gorgeous silver and white arrangement by Terry Bates of The Arrangement in Hot Springs AR. Everywhere you looked there was new details to see: silver leaves, shimmery wire, and even little diamonds were used on the flowers themselves to look like water drops. It was truly something special. Thanks again, Terry!
One of the biggest draws to the Arkansas Florist Association show is the prestigious competitions. This year they hosted both the Arkansas Cup Competition as well as the Mid-America Cup Competition.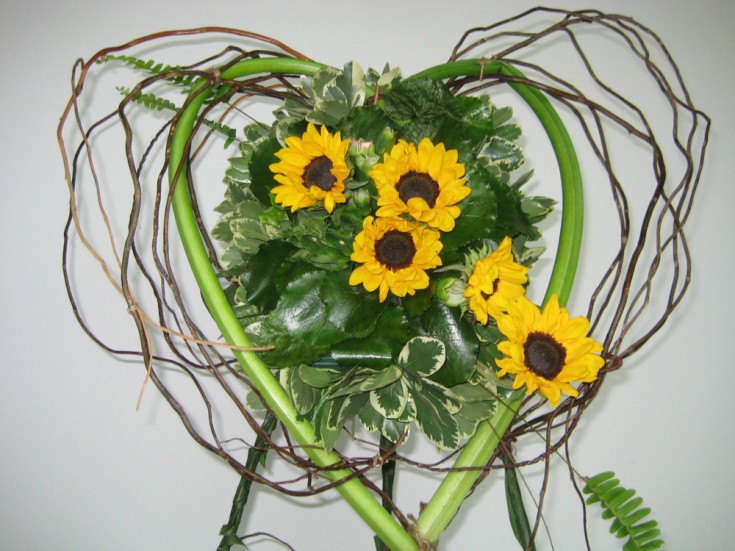 Beautiful entries for the 2012 Arkansas Cup Competition. On the left is Hope Arkansas Designer, Bitsy Carter's funeral entry, and on the right are entries by Katherine Rodocker of Haskell Arkansas. Below is the heart-shaped entry by Rogers Arkansas florist, Patricia Upshaw.
The 7th Annual Mid America Invitational Cup Competition is one of the most prestigious competitions of the floral industry. There were 14 states represented in the competition this year. All 14 designers were winners of their state design contests and they were invited to compete in Mid America. Contestants were asked to create 4 different designs in the following categories:
Themed Centerpiece
Flowers to wear
Sympathy
Bridal (Bouquet had to use the new Smithers Oasis European Collection square bouquet holder)
The winner of the 2012 Mid-American Cup will be flown to the Society of American Florists (SAF) Convention in West Palm Beach FL to represent Mid America and compete for the SAF Sylvia Cup. This year's winner was Jenna Naylor, GMF from A Daisy A Day Florist in Snellville, GA. Congratulations Jenna!
Above photo via Jo Buttram of Shirley's Flowers Inc.
FSN had a fantastic time at the 2012 Arkansas Florist Association Convention. We can't wait for next year!
Check out all the pictures we took at the AFA Convention in our photo gallery below: