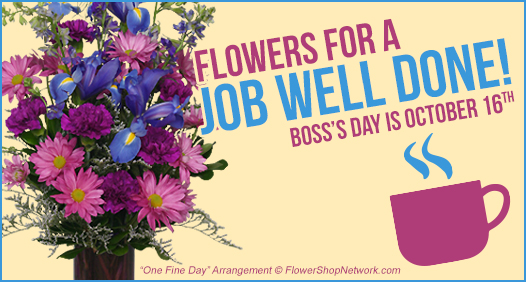 Your boss works hard, just like you. And like you, they deserve respect and praise for a job well done. If you're buying the perfect gift (and of course I mean flowers) for the head man or woman in your office this year, you'll need an appreciative and/or witty card message to go with it.
Boss's Day Card Message Suggestions
Thanks for making it so much fun to come to work. Happy Boss's Day!
I'll have those TPS reports on your desk by this afternoon. Happy Boss's Day!
We heard you cussing a blue streak so we bought this living plant to help clear the air. Happy Boss's Day!
We noticed your office doesn't have windows so we got you flowers to help brighten your day. Happy Boss's Day!
Nothing says, "I deserve a raise" quite like a gift of flowers. Happy Boss's Day!
Sure, flowers speak louder than words, but why not use both? If you're having trouble finding the right words, feel free to use those above, or let them inspire you to create your own message of appreciation. And if you haven't ordered those flowers yet, what are you waiting for? Contact your local florist today!