Women have made great strides since the early 1900's. This isn't only in the United States, but all over the world. International Women's Day, observed annually on March 8th, is a global celebration of all the achievements of women. Flowers are often sent to commemorate this day, so why not send a bouquet full of flowers that represent strength, liberty, and admiration?
Gladiolus
Gladiolus, also known as the sword lily, represented the Roman Gladiators. It stands for strength of character, faithfulness, and honor.
Bird of Paradise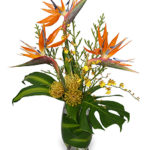 Bird of Paradise flowers are some of the most sought after tropical flowers. These beautiful flowers represent freedom, joy, excellence and success.
Heather
Heather has close ties to Scotland, where white heather flowers were often worn into battle for protection. It symbolizes independence, good fortune, good luck, and admiration.
Hydrangea
Hydrangea has a very diverse range of meanings. In Japan, it has a history of portraying genuine emotions, such as heartfelt gratitude and thankfulness. In the West, they are often used to represent gracefulness and abundance.
Dark Pink Rose
Each rose color has its own special meaning. Use a dark pink rose to express your gratitude to the women in your life!
Who are the strong women in your life? You mom? An aunt? Maybe even your boss. Celebrate the women in your life and those in history who have helped pave the way for women today!
Find flowers to send on International Women's Day!