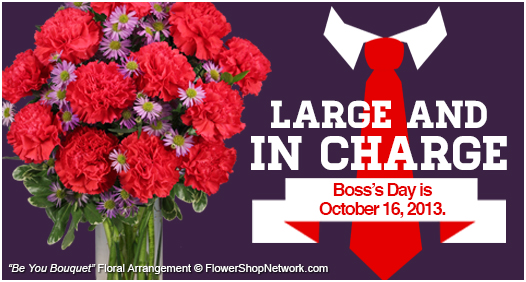 Boss's Day has really gained traction in recent years. If there was ever a time when this holiday could be ignored or set aside in favor of more important things, that time is long passed. So if you have a boss, and let's be honest most of us have a boss, here are a few floral gift ideas to make your boss's Boss's Day a roaring success!
The Sports Fan
If you've ever seen your boss sporting their favorite football team's mascot on his tie, he may be a sports fan. Your local florist is more than aware of any local or regional sports teams and probably carries a plethora of items they could use to put together a wonderful sports-themed arrangement. If nothing else, an arrangement using flowers in your boss's favorite team's colors can provide that "Wow" factor! If your boss loves golf, a sport where there are no teams, or is a fan of a team across the country, do not fret! Your local florist will have what they need to put together something impressive!
The Workaholic
Does your boss spend long hours at the office? Is she there when you arrive and there when you leave? Then she may be a workaholic. The best gift for these dedicated employers is a potted plant! The plant will inject some much-needed nature into their world while offering fresh oxygen that hasn't been run through the building's filters and HVAC unit. A plant is also very low maintenance. It will be a benefit without distracting this hard worker from her daily duties.
The Free Spirit
Does your boss regale you with stories of whitewater rafting or hiking through the Adirondacks after he returns from vacation? You could be working with a free spirit! Don't worry! There's no reason to panic as this is actually an easy one. An arrangement of seasonal flowers should provide this boss with plenty of enjoyment. Something to help remind him of the outdoors and the freedom he enjoys there is just the thing!
The Nomad
This boss is regularly out of the office. She may be checking on multiple locations or meeting with important clients, but she's rarely in one place for long. What does a flower shop have to offer her? I'm glad you asked because the answer is quite simple, a gift basket! This will give your boss something to snack on between meetings or on long road trips. And no, it doesn't have to be fruit. Though, if she likes fruit, then by all means, but gift baskets can come in all types. Does your boss have a sweet tooth? Buy her a candy basket! Does she prefer salty snacks? No problem! All of this and more can be available in a beautifully arranged gift basket.
The Cheerleader
"Great Job!" "I've got the best team in the company!" Does any of this sound familiar? If so, your boss may be a full-time cheerleader. Nothing to complain about there, who doesn't like a little positive reinforcement now and again? But how often do you cheer on your cheerleader? How often do you let this boss know how much you appreciate his tire-less enthusiasm? This Boss's Day, say it with balloons! That's right, mylar balloons with exclamations of love and gratitude are exactly what this boss needs!
As you can see, there are plenty of options available from your local florist to meet the needs of any type of boss out there. Don't get caught empty handed on Boss's Day, contact your local florist!
Don't know who your local florist is? Just type your city and state in the box above and we'll find one for you!