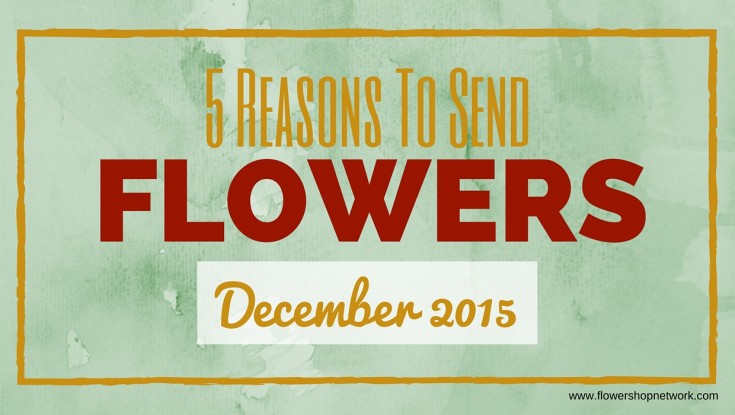 December is here! Can you believe that? Enjoy time with family and friends, preparing for the year ahead. Here are five reasons to celebrate this month!
1. Letter Writing Day – December 9th
Nowadays, instead of delivering a handwritten letter, we send people text messages and emails. Let's go back in time and do things the old fashioned way! Write a letter to someone special, let them know how much they mean to you and add a single red rose or a holiday themed bouquet that will give the recipient a huge smile!
2. Poinsettia Day – December 12th
This day is in commemoration of an American botanist called Joel Roberts Poinsett. He was the one to discover the Poinsettia flower in Southern Mexico. This day commemorates his death, but it is also an opportunity to celebrate the flower most commonly associated with Christmas.
3. Look on the Bright Side Day – December 21st
There are times in which something unexpected happens in our lives and it is important to look at the bright side during times like these. Perhaps a relative or friend is going through a tough time and need a reminder that you are thinking of them? Surprise them with an arrangement that will brighten their day.
4. Christmas – December 25th
"It's the most wonderful time of the year!" Christmas is a time for us to gather with families and friends. Going to a Christmas party? Make sure not to go empty handed! Flowers make a wonderful host gift for any party!
5. New Year's Eve – December 31st
Where did 2015 go? This is the last day of the year and it is the day that gets us motivated for all the new things in store for us in 2016. One way to start the new year is by sharing love and smiles! Wish a special someone a wonderful new year with a floral bouquet!
This season reminds us the importance of spending time with family and friends. Head to your local florist and share the beauty of flowers with those you love!