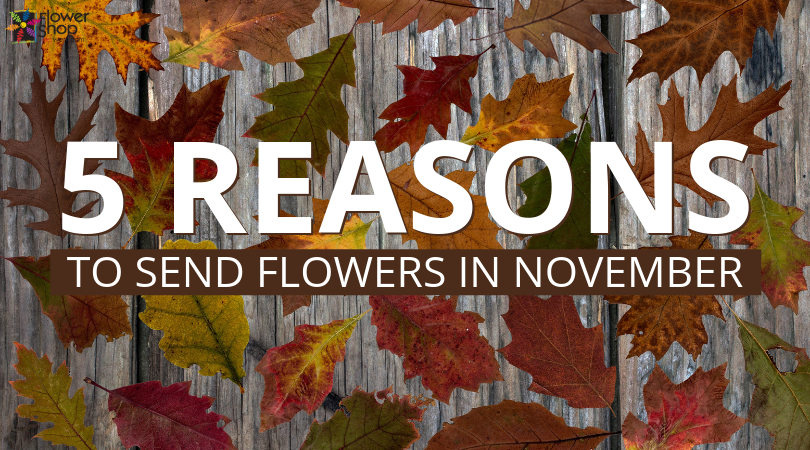 It's clear to say that no holiday or special occasion is needed to send flowers to the people you love, but here's what you can celebrate by sending fresh blooms this month!
Veterans Day | November 11th
Did you know that Veterans Day was first known as Armistice Day? "It marked the end of hostilities of World War I that occurred at the 11th hour on the 11th day of the 11th month." Since then, this day has always been celebrated on November 11th to recognize all those who have served or continue to serve in our military. On this day, be sure to thank the veterans in your life for all they've done to protect our country. A patriotic-themed arrangement will definitely make them feel special.
Beautiful Day | November 20th
Sometimes things happen that make us doubt the good in this world. This is the day we stop focusing on all that bothers us and really pay attention to everything that is beautiful. Family, friends, a roof to sleep under, food – it's all good! To extend the good vibes, be sure to send colorful blooms to the people that are most important to you, or share a rose or two with strangers on the street. That'll definitely make this an even more beautiful day!
Thanksgiving | November 22nd
Show how thankful you are to that friend or family member that no matter what always has your back. No matter who you're thankful for, make sure to let them know by sending a gorgeous fall centerpiece or cornucopia to display at the dining table when the time comes to eat that turkey! If you've been invited to a Thanksgiving party, don't show up empty handed! Flowers are always welcomed with a big smile!
You're Welcome Day | November 23rd
This day is celebrated right after Thanksgiving, which honestly makes perfect sense. When you say "Thank You," there's always someone replying with "You're Welcome." Why is this a good day to send flowers though, you ask? Giving a flower or flowers as you reply with "You're Welcome," shows that you help them not because you want to be recognized for it but because it really means something. You reach out to help because you really do care.
via GIPHY
Small Business Saturday | November 25th
We believe this day is just as important as any other holiday this month. Supporting local florists and other small businesses is a wonderful way to give back to our community. These businesses bring job opportunities and contribute greatly to the local economy. What you can do today is buy flowers from your local florist and send those same flowers to other small businesses in town. As you support one business, you are letting another business know how grateful you are for the impact they have in your community.
Find a local florist in your area and start scheduling deliveries to family and friends in November! Contacting your local florist ahead of time ensures that the flowers you need are available and that they are delivered on time.