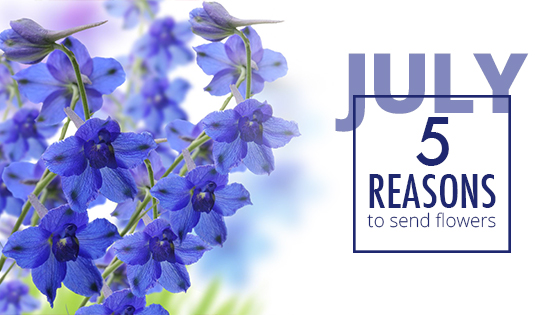 July is here and that means the year is already more than halfway over!  Summer is really heating up, so what better way to celebrate than to send some beautiful flowers to the amazing people in your life.  Here are five reasons to send flowers this month.  
1. Independence Day- July 4th
Independence Day is one of the most important holidays in our country.  Today we celebrate our country's independence with fireworks, BBQs, and most importantly, family.  A beautiful bouquet of white hydrangeas in a red, white, and blue vase will make the perfect piece to add a spark to your 4th of July party.  
2. International Kissing Day- July 6th
Most of us don't need an excuse to kiss our loved ones.  For those who do, International Kissing Day provides the perfect reason to lay it on your crush, spouse, or significant other.  International Kissing Day is all about puckering up for any reason, even kissing your own reflection!   The only way to make those kisses even sweeter is by sending them a spectacular bouquet of roses or their favorite flowers.
3. National Simplicity Day- July 12th
National Simplicity Day is celebrated on Henry David Thoreau's birthday each year in honor of his dedication to living a simple lifestyle.  Nation Simplicity Day is all about slowing down and enjoying the small things in life.  Flowers are the perfect way to bring the joy of nature indoors and liven up your home or office space.
"Simplicity is the law of nature for men as well as for flowers." – Henry David Thoreau
4.  National Give Something Away Day- July 15th
Paying it forward has become a big part of today's world.  This is what National Give Something Away Day is all about.  From a small act, such as donating food to your local food pantry, to sending a big bouquet of daisies to your favorite business or friend, your local florist can help you pay it forward on National Give Something Away Day.  
5.  Parents Day- July 24th
Parents Day is all about celebrating parents and their role in raising children.  Parents come in all shapes and sizes and are often taken for granted.  Show your parents how much you appreciate them by sending them a gift basket filled with their favorite treats, and if you haven't visited in a while stop in to say hi!  
Just because is always a good reason to send flowers, these reasons help make just because a little more special.  Visit your local florist today to see which beautiful arrangements will help your receiver see fireworks this July!