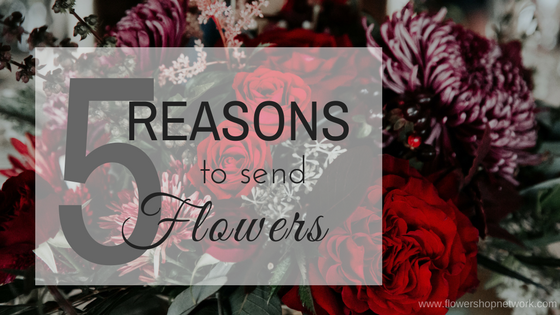 November is a time for giving thanks and celebrating the start of the holiday season. Naturally, flowers are a great way to show your thanks to friends and family, so you could send them just because if you really wanted. But in case you need a reason, we're giving you five reasons to send flowers. Some you may know, and some you might not!
Color the World Orange Day- November 7th
Color the World Orange Day was established in 2014. It is a day to bring awareness to Complex Regional Pain Syndrome and Reflex Sympathetic Dystrophy. Celebrate by sending a bouquet of vibrant orange flowers to someone you know who suffers from one of these illnesses to show them your support.
Veterans' Day- November 11th
Originally known as Armistice Day, Veterans' Day honors all the members of our military, past and present. It also marks the anniversary date of the end of World War I. Send your veteran flowers as a thank you this Veterans' Day.
Thanksgiving- November 23rd
Whether you are buying a centerpiece for your table or sending flowers to family, the right arrangement can make anywhere feel like home. Visit your local florist to pick out the right arrangement for your Thanksgiving.
Small Business Saturday- November 25th
Small Business Saturday may seem like an odd holiday to have on this list, but your local florist isn't part of a large chain store selling flowers. Support your local florist on Small Business Saturday by ordering flowers. You can also send arrangements to other small businesses in your city!
National Day of Giving- November 28th
#GivingTuesday falls the Tuesday after Thanksgiving. It's a day for giving back and you can do this in many ways. Donate flowers to your area long-term care facility, send a gift basket to members of your local fire department, or just send flowers to someone you love to let them know!
Now that you know a few reasons to send flowers, check out the Thanksgiving arrangements on FSN for ideas what flowers to send!