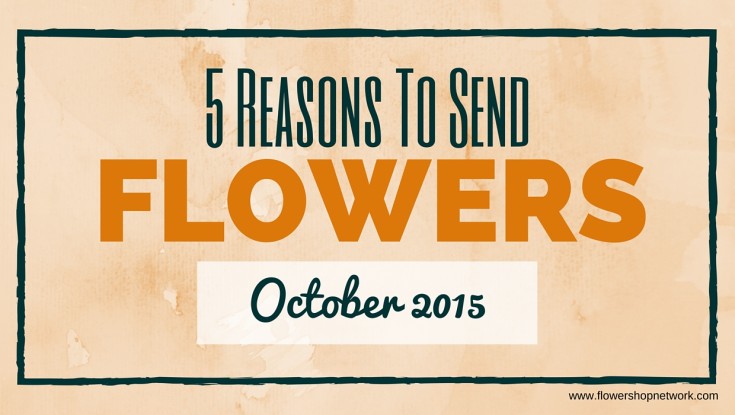 We all know about Halloween but that really isn't the only holiday to celebrate this month. Here are five other reasons to send flowers in October!
1. World Teachers' Day – October 5th
Primary, high school, and college teachers–let's celebrate them all! Teachers are a key component in the education of our children and deserve a big "Thank You." A small arrangement with gerberas, sunflowers or roses would be great to gift that very special teacher.
2. You Matter To Me Day – October 7th
Take time to show your appreciation for the special people in your life. Perhaps your husband or wife, parents, children, a neighbor, or a friend. Let them know how much they truly matter, "because everyone matters to someone and someone matters to you."
3. Get To Know Your Customer Day – October  15th
This is a chance for all business owners to interact a little more with customers. Show appreciation for their help in making your business a success. A great idea to give back is to give a flower arrangement away to a lucky customer!
4. National Boss Day – October 16th
A good relationship with the boss is always the start of a good work environment. This day was created to strengthen the relationships between employer and employee. A great way to celebrate this day is by giving flowers! An arrangement of mature roses or a mini-plant to display in an office are great choices for this occasion.
5. Mother-In-Law Day – October 25th
Without our mother-in-laws, we wouldn't have our spouses! Take a moment today to thank these wonderful ladies with a beautiful flower arrangement and create a deeper connection–a more special bond.
Flowers can be sent any day of the year! Don't wait for a specific holiday to get here when you can delight the special people in your life today. Head to your local florist, where infinite reasons for happiness await!