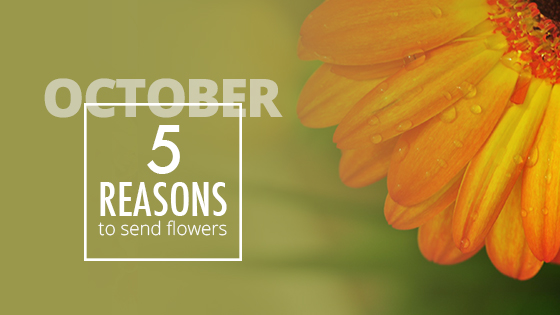 Research has proven that giving makes us happier than receiving. So why don't we give gifts more? One reason is because we simply don't know what to get. Walking through the mall for hours looking for the perfect gift typically leads to disappointment. Avoid the wasted hours and effort with the gift of flowers! As we enter into a new month we have many opportunities to experience the happiness that comes with giving a gift, and flowers never disappoint!
1. Do Something Nice Day – October 5th
This day serves as a reminder of the importance of kindness. We all know people that are facing tough situations or going through challenging times. This day gives us the chance to do something nice for them. Send flowers for encouragement as your nice gesture. Use the hashtag #DoSomethingNice and share what you did on social media. You will feel happy knowing that your act of kindness left a lasting positive impact.
2. Sweetest Day – October 15th
Sweetest Day is an American holiday that dates back to 1992.
Hallmark shares that, "Legend has it that Sweetest Day was established by Herbert Birch Kingston, a Cleveland, Ohio candy company employee who wanted to bring happiness to the lives of those who often were forgotten. Kingston and others distributed candy and small gifts to orphans, people confined to their homes and others to show them that someone cared."
Today people celebrate this holiday with romantic gestures and expressions of love to their significant other. On October 15th show your sweetie how much you love them with a beautiful flower arrangement!
3. Boss's Day – October 17th
Don't forget that your boss deserves some positive recognition too! This holiday is a great chance for you to strengthen your relationship with your boss. Go in with some co-workers to split the price and order a beautiful flower arrangement. Have it delivered to his or her desk the morning of the 17th for a special surprise.
4. Mother-In-Law Day – October 23rd
This holiday is dedicated to honoring the mother of your spouse. The woman who raised the person you love deserves to be recognized. A great flower to send is the gladiolus for it symbolizes strength of character and honor. Include a sweet card message with your flowers that thanks her for raising your significant other.
5. Halloween – October 31st
Get into the spirit of the season with a fun Halloween arrangement! Send a festive gift to someone who loves decorating their house for Halloween. They will appreciate your thoughtfulness and the extra decorations!
Remember, giving makes us happier than receiving! Find a florist near you to order a beautiful arrangement today!