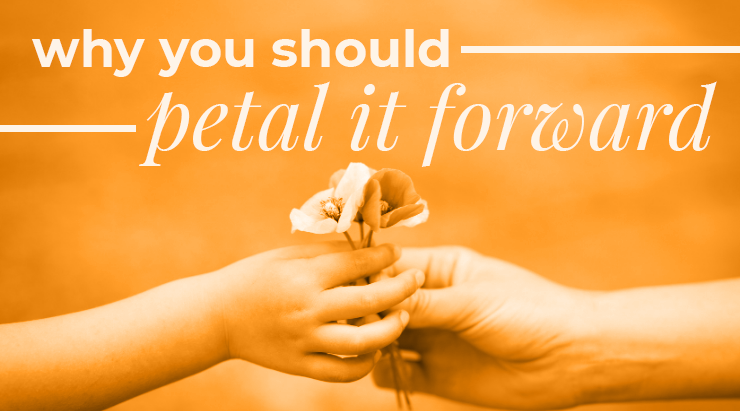 For the past five years, florists around the nation have taken part in SAF's goodwill initiative, Petal It Forward. While this year has been different in more ways than imagined, Petal It Forward is still happening and is more important than ever. In mid-July, 53% of adults in the United States reported that their mental health has been negatively affected due to COVID-19. Flowers have been scientifically proven to positively affect emotional and mental health. That's why participating in Petal It Forward has never been more critical than in 2020. If that wasn't enough, here are a few other reasons why you should Petal It Forward on October 21st:
It Connects You
With social distancing a new norm, most people have lost out on interpersonal connections with others. Petal It Forward helps bring that connection back! Everyone loves getting flowers and to get them as a surprise is even better. They'll love getting the gift of flowers, you'll love seeing their reaction, and it makes everyone happy in the end.
It Supports Local Business
Like all other small businesses, florists have faced the challenges of COVID-19. Support a local florist and buy flowers from them to Petal It Forward! Call and see if they have any packages or kits for Petal It Forward or just ask for their opinion on what you should get. They'll be glad to help you bring positivity to others during this time and that you're helping support their small business!
It's Fun!
There's never been a time where people needed to have a little fun in their lives more than now. Giving flowers to people you love or to complete strangers to make their day better is extremely fun! Their reactions make it the best and it'll make you feel like you did something good for the people in your community.
Have fun, support your community, and Petal It Forward on October 21st. It'll be a great time to connect with others and do something nice for the people around you!