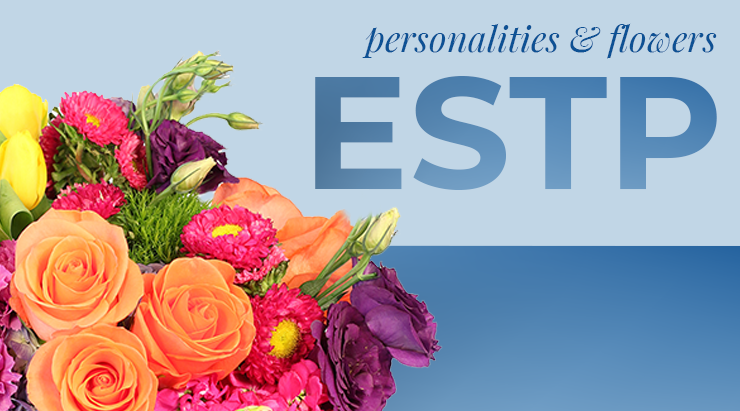 The Entrepreneur tends to be energetic and action-oriented, making up about 4 percent of the population. Looking for the perfect flowers to send an ESTP? We know just the ones!
ESTP: The Entrepreneur
Entrepreneurs love being the center of attention and enjoy drama, passion, and pleasure. They keep their conversations energetic, with a good dose of intelligence, and have a blunt sense of humor. They enjoy hands-on learning and usually live in the moment, diving into action. They are full of passion and energy and have perhaps the most perceptive and unfiltered view of any type. Entrepreneurs can notice small changes, picking up on hidden thoughts or motives. They are natural leaders and bring life and excitement to whatever they do. 
Strengths

Bold

Rational and Practical 

Original 

Perceptive

Direct

Sociable 

Weaknesses

Insensitive 

Impatient 

Risk-prone

Unstructured

May miss the bigger picture

Defiant
Their Perfect Flower
Entrepreneurs love being the center of attention and are very charismatic, much like the lisianthus. Lisianthuses symbolize appreciation, charisma, charm, confidence, and gratitude, making them the perfect flower for ESTPs! Does this sound just like someone you know? Send the ESTP in your life a gorgeous arrangement with lisianthus! They'll love the thought you put into it and the stunning work done by your local florist.

Myers-Briggs Personality Types
For the uninitiated, the Myers-Briggs Personality Types are 16 different kinds of personalities based on qualities each person possesses: Introverted or Extroverted (I or E), Sensing or Intuitive (S or N), Thinking or Feeling (T or F), and Judging or Perceiving (J or P). An assessment of questions determines your type and can help you get to know yourself better and to understand why you behave in certain ways, how you view the world, and how you interact with others.Take a free version of the test here.