We are excited to congratulate Elizabeth Ann Florist and Gift Shop on 60 years in the floral business, making it the longest operating retail business in Oconee County. This shop took the celebration to the next level with many fun and creative festivities for their friends and customers!
To kick off the anniversary the family was featured in the Watkinsville Christmas Parade. Right after the parade they celebrated with a, "60 years of Flowers and Friendships" birthday party. The Mayor, Charles Ivie, read and presented the flower shop with a Proclamation from the City of Watkinsville. Family, friends, and customers all attended along with their minister, Dr. Rev. Teresa Angle-Young who blessed the business.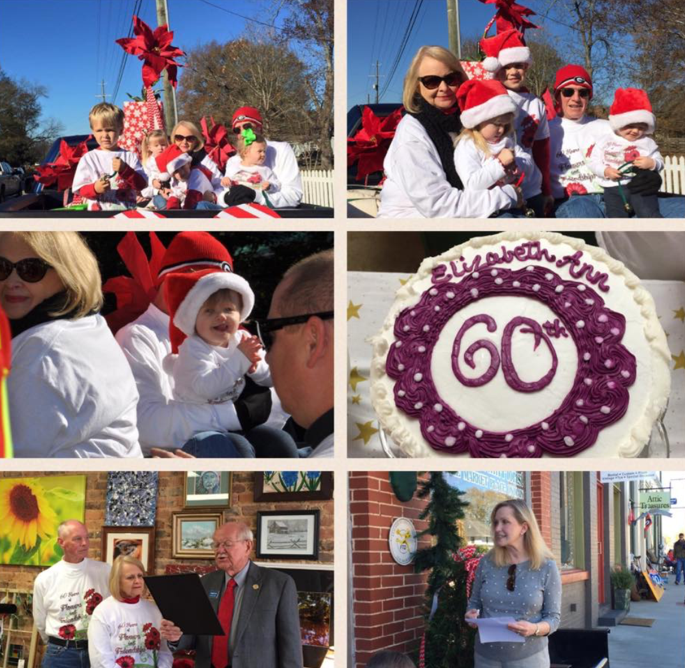 The shop also hosted social media campaign throughout the 59 days leading up to the official birthday. During the campaign they gave away prizes, made donations to programs in their local community, and highlighted old newspaper articles and memorabilia.

One Facebook post included a picture of a special birthday card the shop received on their 35th anniversary from President and Mrs. Reagan!
Elizabeth Ann Yarbrough started the business in her home in 1955. She attended floral design school in Atlanta, GA and the shop is now operated by her son and daughter-in-law, Bill and Lynne Yarbrough and their son, Paul. It is located on North Main Street in historic Downtown Watkinsville, GA.
Thank you for your dedication to superior quality and professional service throughout the years!
Visit Elizabeth Ann Florist and Gift Shop to find beautiful arrangements from this local florist!