In this fast-paced world, it can be hard to keep up with the latest and greatest floral design trends. Here are 7 easy ways to keep up with the latest in the floral design industry.
1. Attend Design & Trade Shows -Nothing gets the creative juices flowing like attending a design or trade show. Being in the presence of industry leaders and talented designers you are sure to bring home tons of new ideas.
2. Follow Industry Leaders on Social Sites – Are you into social networking? So are you favorite florists and others involved in floral design! Flower Shop Network on Facebook is a great example of a Facebook Page every florist should follow. We update our page daily with great tips, ideas, pics and even videos. (Our design videos on YouTube are a good way to learn new techniques from expert florists!) Other great Facebook Pages to follow are: AIFD Group, SAF Page or check out Flower Shop Network's Favorite Pages for more.
3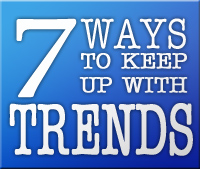 . Attend Workshops & Educational Classes – Just like with any type of art and design, the styles are constantly changing. A floral design class or workshop is a great way to stay in touch with the latest trends in the industry. Floral design schools, universities and even conferences can be a great place to look for floral design classes. Most of these workshops you can finish in a weekend, but you'll return with a lifetime of new design ideas!
4. Subscribe to Floral Magazines – An easy way to stay up to date with trends is by subscribing to floral design magazines.Each month you will get new articles and even how-tos on some of the trendiest arrangements and ideas in the industry.
5. Subscribe to Newsletters – Subscribing to newsletters, such as the FSN Newsletter, will also help! They often have an overview of the latest and greatest trends happening now!
6. Read Industry Blogs – FSN's Bloomin' Blog is a very helpful resourse for all florists, but also check out our blogroll! Don't forget to subscribe!
7. Enter Floral Design Contests – Watching and competing in Floral Design Contests are a great way to hone your design skills, but also let your creative juices flow! FSN's Floral Design Challenge is a fun and friendly way to push your talent to it's creative limits! A new contest starts Friday!

Being active with Flower Shop Network is a GREAT way to start. Our writers are always posting informative tips, tricks, blog articles, newsletters and much, much more. Connect with us, we'd love to meet you!