What better choice for our favorite flower of the month than the beautiful Anthurium? It's heart-shaped flower heads make it perfect for Valentine's Day. So what's the best part about sending an Anthurium arrangement to your Valentine? It has a the longest vase life of any cut flower! Anthuriums can last up to a whopping 28 days! Anthuriums add an exotic look to arrangements and can be used with all types of flowers as well as with other tropicals.
ABOUT ANTHURIUMS

• Use: Flower
• Type: Herbaceous epiphytes
• Height: 15in – 3ft
• Name Meaning: Hospitality
GROWING ANTHURIUMS

• Requirements: moist, but well-drained soil. Stake tall varieties.
DESIGNING WITH ANTHURIUMS

• Blossom Size: 1″-6″ across
• Texture: Waxy
• Fragrance: none

• Silhouette: Heart
• Vase Life: 15-28 Days
• Colors: purple, yellow, red, orange, pink, white, green and even bi-color
Spathes come in white, yellow, orange, pink, dark purple, maroon, red, green and combination of colors; can change during growth.
• Flowering: Spring to Autumn
• Flowers Available: Year Round
ABOUT ANTHURIUM



The genus Anthurium includes over 800, if not thousands, of different species. Many of which are undoubtedly not yet discovered, and new ones are being found every year. These tropical beauties come to us from the wet, tropical mountains of Central and South America. In 1889, Anthurium andreanum was released in to Hawaii by Samuel Damon. It's popularity grew and soon farmers learned how to propagate with seeds instead of cuttings. This gave rise to the hundreds of colors and styles you see today.
Anthuriums are called many different names — flamingo flower, painted tongue, boy flower, and a few others that may not be suitable in certain company, but the actual name, Anthurium, comes from the Greek, meaning tail flower. All of which undoubtedly derive from the unusual shape of this quirky plant.
The 'flower' of the Anthurium is actually a special kind of waxy leaf called a spathe, and the spiky-structure coming out is the spadix. The spadix is covered in the real Anthurium flowers, all teeny-tiny hundreds of them. It also doesn't have to be straight, many Anthurium spandix are spiraled, curled, globe-shaped, and others.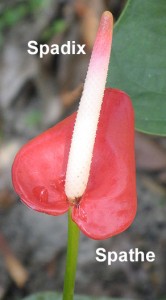 Anthuriums are a florist favorite because of their incredibly long vase life. Anthurium flowers can last up to 28 days! Imagine a bouquet of Anthurium for your sweetie this Valentine's Day? Not only are the heart-shaped flowers incredibly romantic, but she can enjoy an entire month of beautiful color and thoughts of you!
*Note* Not all florists carry tropicals in their everyday coolers, but a lot do! Call your florist ahead of time and discuss your Anthurium arrangement. If you're planning to send an Anthurium arrangement for Valentine's Day, order now!
TYPES OF ANTHURIUM

The Standard Anthurium are the ones typically used as cut flowers from your florist, and is the most common variety. They are shaped like perfect Valentine's Day hearts and generally come in solid colors, though multi-colored patterns are also available. The standard Anthurium flowers range from three to eight inches.
The Tulip Anthurium are similar to the standards except a tad smaller, and instead of a heart-shaped spathe, theirs curls up around the spadix. (Think peace lily, although they are not related.) Most Anthuriums plants are usually scentless, but some varieties of tulip Anthuriums are actually quite fragrant.
There is a third type, the Obake Anthurium, that are BIGGER than other types of Anthurium. "Obake" means ghost in Japanese and these kinds of blooms present an ethereal quality simply because they are so much bigger than other varieties. Another interesting fact about the obake anthurium is that virtually no two contain the exact same mixture of coloration.
We want to hear from you!
Do you grow Anthuriums in your garden? Or have you designed or received a beautiful arrangement filled with these gorgeous flowers? Post a pic in the comments below and we'll add it to this post! We can't wait to hear from you.
*Note that this is FSN's favorite flower of the month. The actual flower of February is the violet.
Related Articles:
You Know What Peaks My Interest? UNIQUENESS
What Is A Good Plant For An Office?
Proper Care For An Anthurium Flamingo Flower
Anthurium Water & Fertilizer Requirements
This post is brought to you by local Kailua, HI florists.
No where near Hawaii? No worries, use Flower Shop Network's handy directory to find a real florist near you!