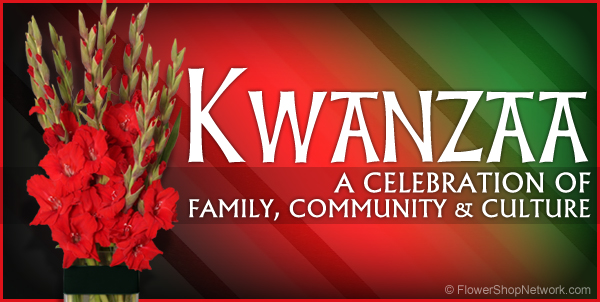 While it's not the biggest holiday on our radar this season, the African holiday, Kwanzaa, is celebrated by millions all across the nation. It's a perfect holiday for this season with it's focuses on family, community and culture.
Like the winter solstice, the celebration of "first fruits" is ancient and dates back to Egypt and Nubia in Africa. Kwanzaa's name comes from, "Matunda ya Kwanzaa" meaning "first fruits" in Swahili. Kwanzaa celebrations last 7 days; observed from December 26 to January 1 each year.
The principles of Kwanzaa are incredibly powerful and meaningful. They focus on not only building ones self, but also family and community. Each of the 7 days of Kwanzaa is dedicated to a specific principle.
The Principles of Kwanzaa (Nguzo Saba):



Umoja (Unity): Re-affirming unity of family and community, as well as nation, and race.
Kujichagulia (Self-Determination): To define ourselves, name ourselves, create for ourselves, and speak for ourselves stand up.
Ujima (Collective Work and Responsibility): To build and maintain our community together and make our brothers' and sisters' problems our problems, and to solve them together.
Ujamaa (Cooperative Economics): To build and maintain our stores, shops, and other businesses and to profit from them together.
Nia (Purpose): To make our collective vocation the building and developing of our community in order to restore people to traditional greatness.
Kuumba (Creativity): To always do as much as we can, in the way we can, in order to leave our community more beautiful and beneficial than we inherited it.
Imani (Faith): To believe with all our heart in people, our parents, our teachers, our leaders, and the righteousness and victory of our struggle.
No matter what your race, religion or background, the principles of Kwanzaa are values we can all support. They not only are building blocks for ourselves, our family and community, but serve to reinforce and enhance them.
Colors & Symbols of Kwanzaa
The main colors of Kwanzaa are red, green and black — the colors of the Pan-African flag. All bright colors are welcome, however.
During the week of Kwanzaa, observers light candles for each of the 7 days. The candles are displayed in a candle holder called, Kinara and are usually surround by the following symbols:
Mazao (The Crops) Symbolic of African harvest celebrations and of the rewards of productive and collective labor.
Mkeka (The Mat) This is symbolic of tradition, history and therefore, the foundation on which we build.
Kinara (The Candle Holder) This is symbolic of our roots, heritage and our ancestors.
Muhindi (The Corn) This is symbolic of children and the future which they embody.
Mishumaa Saba (The Seven Candles) These are symbolic of the Nguzo Saba, the Seven Principles, the minimum set of values which people are urged to live by.
Kikombe cha Umoja (The Unity Cup) This is symbolic of the foundational principle and practice of unity which makes all else possible.
Zawadi (The Gifts) These are symbolic of the labor and love of parents and the commitments made and kept by the children.
Flowers & Kwanzaa
Flowers are the perfect decor for Kwanzaa celebrations. A florist can incorporate the symbols and colors of Kwanzaa into something not only beautiful, but illustrative of Kwanzaa principles.
Imagine fruits, grain and other harvest-time elements incorporated into an all-red flower arrangement with a green vase and black ribbon. Or maybe an all-green flower arrangement with a black vase and bright red berries? Creative florists everywhere love a challenge, call yours today and find out just what is possible in your area! It might surprise you!
Remember the principle Ujamaa (Cooperative Economics) and always shop local to benefit your community!
Going to a Kwanzaa party? Bring themed flowers as your hostess gift!