How did you become one of the Plant Experts for Flower Shop Network?
It began with my passion for growing flowers, vegetables and herbs. I love to talk about plants and gardening. I keep up with flower names and varieties the way others keep up with family members and their accomplishments.
I may not know every plant name, but that doesn't mean I won't find out what it is or where and how to grow it.  I love learning about plants and sharing the wonderful world of flowers with others.
Jamie's Favorite Flower Arrangement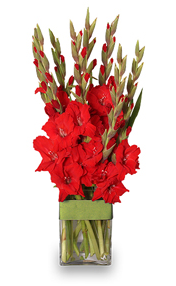 Jamie likes simple and clean cut designs. This style catches her eye because of it's vivid colors and clean lines.
Click here for
Gladiolus flower arrangement
What qualifies you to be the FSN Plant Expert?
In high school, I was on the horticulture team for 3 years.  I began college as a horticulture major before graduating with a business degree.  I spent 10 years as the head of my family's greenhouse growing operation. I am still active in our garden center and landscaping business, and I am an Arkansas Certified Nurseryman. (Got plant questions? Ask The Plant Expert!)
What are some of your interests?
Dog training, gardening, cooking, cycling and anything related to flowers. I love to make home-made jellies, especially my hot-pepper jelly made from the kung pao and jalapeno peppers I grow in my garden. I'm into dog obedience training. I take Quincy (my Australian Shepard) to the nursing homes for therapy. I just stated cycling, but really enjoy it. Baking cookies and working in my garden are my stress relievers.
What is your favorite flower?
I have three – tulips, gerberas and 'Star-gazer' lilies, which I grow in my garden.  When out of season my local florist keeps me well stocked.
What is your favorite reason to get flowers?
Just because it's Friday. Flowers are a great way to celebrate the weekend.
What is the best tip for making fresh flowers last longer?
Know who you are getting your flowers from  —  if they are prep correctly, they will last longer.
Check out these beautiful pictures from Jamie's garden:
Jamie has been writing for the Bloomin' Blog since 2006. Her extensive knowledge of flowers and plants is an invaluable resource for FSN and our florists. Remember, if you have plant questions, submit them to our Plant Expert!