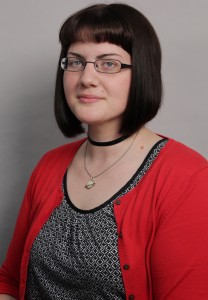 What are some of your interests?
At any given moment, I love to be creating. Writing, filmmaking and photography are my biggest passions. Gardening, cooking and crafting are my favorite ways to relax. I also like to entertain and host parties with friends and family. Traveling to see new places is high on my list as well.
What is your favorite thing about writing for the FSN Bloomin' Blog?

Juli's Favorite Flower Arrangement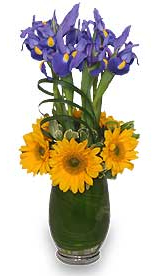 Juli enjoys variety and thinks designs that show a creative spark are the most fun.

Click here for
Fashionable Floral Flower Arrangement
As the daughter of two small business owners, I love that my research and writing gives good information to real florists who are looking for ways to promote their individual stores and improve their craft. My goal is to make useful information easy to read and interesting to explore. I feel lucky that I have the opportunity to research and share so much stunning subject matter!
What is your favorite flower?
It is probably a tie between daffodils and irises. I have fond memories of picking daffodils each year for my mother as they are her favorite and I love crowding them into a vase to create a bright round pop of sunshine yellow. My childhood home also had irises growing just under my window. I remember cutting blooms to bring inside and watching the magic of the attached buds blooming out over night.
What is your favorite reason to get flowers?
I adore being surprised by a gift of flowers. Just Because is my real favorite reason. The best part is the unexpected excitement that comes from seeing an arrangement and reading the card to find out who has been thinking about you.
What is the best tip for making fresh flowers last longer?
Keep fresh cut flowers in a cool spot, out of direct sun and away from heat sources to prevent wilting. Fresh water is definitely key as well.
Juli on Google+
Juli started writing for the Bloomin' Blog in 2013.