What are some of your interests?
Art of any kind. I love painting, sculpting, computer graphics, photography, sketching and, of course, floral design. I guess you could say, creating is my biggest passion. I also love yoga, being outdoors, gardening and thrift store shopping. I excel with computers and love anything and everything to do with new technology. The combination of creativity and technology allows me to keep our florist friends up to speed with the latest!
What is your favorite thing about writing for the FSN Bloomin' Blog?

Mandy's Favorite Flower Arrangement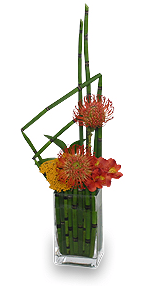 Mandy likes her arrangements with a whole lot of style. The more unusual designs always catch her eye.

Click here for
High-Style Flower Arrangement
My absolute favorite thing about writing for the Flower Shop Network blog is the fact that we promote real local florists. I love writing articles to help florists help themselves. I know everything happening on and offline can be hard for florists to keep up with, but I try to bring the florists the best information in a way that is really easy for them to understand.
I also love getting to research interesting and absolutely beautiful subjects. I hope you all enjoy our blog and if there's anything you want to see more of, email me your suggestions at social@flowershopnetwork.com.
What is your favorite flower?
Irises have always been my favorite flower. My great grandmother used to have an iris bed where the most unique and magical bearded irises grew. I remember each year we'd pick out new, unusual styles and shapes from catalogs. Irises always remind me of childhood memories with my grandmother.
What is your favorite reason to get flowers?
Personally, I love buying loose flowers from my local florist to create my own floral art for still lifes and painting studies. Spring flowers are definitely my favorites.
What is the best tip for making fresh flowers last longer?
Keep your water fresh and clean, and use any flower food your florist might have included.
Mandy on Google+
Mandy has been writing for the Bloomin' Blog since 2009.