ALEXANDRITE PINK FLOWERS
June's favorite flower color is Alexandrite pink. This year, we are spotlighting unique flower colors for you to use in custom flower arrangements, wedding bouquets, centerpieces and anywhere else you might need great-looking flowers. To make the chosen colors a little more interesting, we are starting with birthstone colors. Last month's was emerald green, and this month it's Alexandrite, or light pink. (Click here for all of our color of the month posts)
The most sensational feature of the Alexandrite gemstone is its surprising ability to change its color. Purpleish in daylight, Alexandrite turns a soft shade of pink, purplish-pink or raspberry red in incandescent light. This unique optical characteristic makes it one of the most valuable gemstones of all, especially in fine qualities.
When creating your wedding bouquet,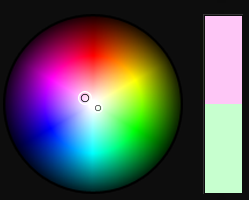 When creating a color scheme using Alexandrite pink, use the color wheel as your guide! Above you see three examples. The first is the complementary color of Alexandrite pink — pale green, which is sure to bring out the subtle tones of the pink. The second is a triad (3) of color complements to light pink. Soft yellows and pale aquas make the perfect pastel combination. You could also go with split-complement colors, meaning the two adjacent colors to the complementary color. So Alexandrite pink mixed with light green and pale aqua.
This is a great flower guide for brides looking for unique color palettes and unusual flowers for their wedding.
Light Pink Phlox

Phlox grows in large clusters of flowers, similar to hydrangeas, but phlox flowers are a bit larger. These soft pink flowers would give your arrangement or bouquet a sweet, girly look!

Seasonal Availability: Jun – Oct
Vase Life: 3-5 Days

Light Pink Alstroemeria

Trumpet-shaped flowers just dusted with a soft pink, Alstroemeria are long-lasting and look great in any type of floral design.

Seasonal Availability: All Year
Vase Life: 7 – 14 Days

Light Pink Snapdragons

Tall spikes of powder-pink flowers are sure to look great in any flower arrangement or wedding bouquet. Snapdragons are great for garden-style designs!

Seasonal Availability: All Year
Vase Life: 5 – 7 Days

Light Pink Gladiolus




Gladiolus work great as long cascades of color in bridal bouquets.

Seasonal Availability: Year Round
Vase Life: 7-10 Days

Light Pink Sedum




Sedum is a great filler flower to bouquets and arrangements to add color and texture!

Seasonal Availability: Jul – Oct
Vase Life: 6-8 Days

Light Pink Hyacinth




Incredible beauty with a fragrance to match, hyacinths are a favorite spring flower! Use these flowers with their bulbs in arrangements to make them last even longer!

Seasonal Availability: Jan – Jul
Vase Life: Good

Light Pink Protea

Protea is a very unique flower, and it's HUGE! This one is the king protea and can be over 10″ across! (WOAH!) Brides love this as a focal flower in their reception tables or as a singular-flower bouquet.

Seasonal Availability: Apr – Jun
Vase Life: 10-20 Days

Light Pink Lisianthus




A very unique, rose-like flower, the Lisianthus likes to change color as it grows. The bud starts as a soft green, but then transforms to light pink as it matures. (Also available in other colors)

Seasonal Availability: Year Round
Vase Life: 7-10 Days
The flowers above are all very unique, and florists may not carry them in their day-to-day supplies. If you are interested in using these Alexandrite-pink flowers, be sure to contact your florist in advance for their availability status. You may have to have them special ordered, but it is worth it! We've also listed the seasonal availability with each flower, this means they are more easily available during that time, and often cost less.
This post was brought to you by local Savannah GA florists.
Not in Georgia? No worries, use Flower Shop Network's handy directory of real local florists to find a florist near you!