The Amaryllis is quickly becoming a favorite, trendy houseplant for Christmas. Rivaling the larger, more traditional poinsettias. But there is far more to the Amaryllis than just being a Christmas decoration. Read all about this fascinating flower in this article!
AMARYLLIS/ HIPPEASTRUM

Use: Flower
Type: Bulbous Perennials
Height: 9-16″
Name Meaning: Pride, Radiant Beauty
GROWING
Requirements: moderately fertile, well-drained soil. Full sun to partial shade.
Makes a great houseplant.
DESIGNING
Blossom Size: 3-8″ tall
Texture: Waxy
Fragrance: Light, sweet scent

Silhouette: Trumpet
Vase Life: 7-10 Days
Colors: Solid and Bi colors. Mostly pinks, whites, or purples
Bloom Season: Fall
Flowers Available: Year Round, Peaks October through May
ABOUT AMARYLLIS/ HIPPEASTRUM



Mistaken Identity At one time, hundreds of plants were labeled Amaryllis from both the new and old world. After a closer look, it was understood that they actually are not from the same genus at all. The name Amaryllis now is used to describe plants from the old world, namely Africa. Plants from the new world are labeled Hippeastrum. Currently, there are only two species in the true, Amaryllis genus; the most famous of these is Amaryllis belladonna. The horticultural trade has made little efforts to correct the mislabeled Amaryllis to Hippeastrum, and even if they did, it probably would do very little good.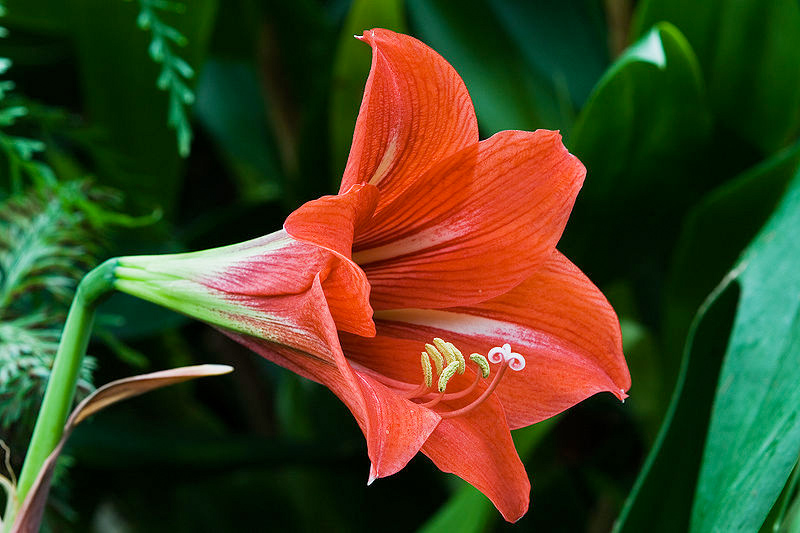 Hip To Be Hippeastrum. Most of the commercially available forms of Amaryllis are actually Hippeastrum. These plants are native to Central and South America. There are over 50 species and hundreds of different cultivars available. They are an increasingly popular bulb for indoor growing because of their sleek style and long bloom time.
Hippeastrum is Greek for horseman's star (knight's star), because of the resemblance to the morning star weapon. You know, the big, spiky ball on the end of a chain with a club. Who would have thought such a delicate beauty could be named after a medieval weapon?
The Dutch were the first to cultivate the Hippeastrum (from the Americas)  in Europe in the 18th Century. But it was the emergence of Hippeastrum papilio that caused these flowers to skyrocket in popularity. H. papilio is a unique beauty; it combines beautiful color with unique stripes. This allowed for tons of new varieties with striking color variations.
UP-AND-COMING CUT FLOWER FAVORITE
Florists everywhere are loving the Amaryllis right now. They have a fantastic vase life and an unrivaled silhouette. They look great in big bunches — fantastic for Christmas centerpieces.
Probably the favorite use for Amaryllis in floral design, is in wedding bouquets! Brides are thrilled with the bold blooms. The white ones are often used, but my person favorite is the red Amaryllis paired with traditional red flowers, like roses and tulips. How romantic would it be to grow your own Amaryllis flower for your Christmas wedding.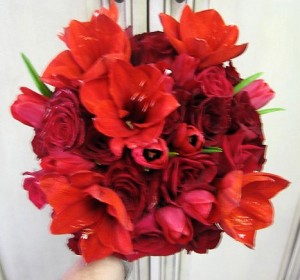 Floral Designing Tips:
First, use a heavy container, this flower is incredibly top heavy.

Because the Amaryllis stems are hollow, they have a tendency to split and curl. Prevent this by wrapping the end in tape or rubber band.
Like tulips, Amaryllis grows after it's been cut. Remember to keep this in mind when designing.
INDOOR AMARYLLIS CARE



Not only is the Amaryllis (Heppeastrum) absolutely gorgeous, it is surprisingly easy to care for. Even if you're green thumb's black, you can care for an Amaryllis.
Amaryllis Bulb: The Early Stages Plant the bulbs with the roots down and the shoulders and neck of the bulb sticking out above the surface of the soil. Water carefully, but do not over water. Never leave water standing in your container. Place your Amaryllis in a warm place with bright, filtered light. It is a tropical plant, so keep it warm, around 68-80°.
From then on, keep soil moist, but not wet. Only water your Amaryllis when the top 1″ of soil is dry. Avoid getting water on the nose of the bulb. As your plant begins to grow, feed it a diet of well-balanced fertilizer recommended by your local nursery or garden center.
Amaryllis Flowers: Show-Stopping Diva Nothing beats the beautiful bloom display the Amaryllis puts on for us. It's huge, bells are exquisit and no matter where you place this houseplant in your home it will steal all attention. To extend the life of Amaryllis flowers, here's a tip: keep the plant slightly colder and out of direct sunlight.
Be sure to keep your plant out of the reach of children and pets. All parts of the Amaryllis (Hippeastrum) are toxic and can cause mild stomach irritations. (They are perfectly safe to handle, however.)
Once flowers begin to wither, remove them. When the stalk starts to fade, cut it down to the nose of your bulb. Feed it your balanced fertilizer as the foliage begins to grow.
Fun Fact: Dutch bulbs usually produce flowers first, then, after it has finished blooming, the plant will begin growing leaves. Bulbs from the South African growers usually put up a scape and leaves at the same time.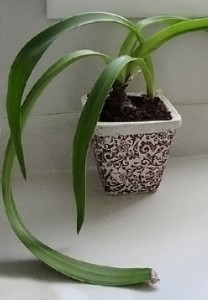 Amaryllis: After Blooming Once the show's over, don't pitch it! Keep it around for beautiful foliage and even more blooms next year! Continue feeding and watering it like any other houseplant. At the end of summer, reduce the amount of water you use; keeping the plant slightly moist to dry. When the leaves begin to turn yellow (Fall), cut them back to about 2″ from the top of your bulb. Then remove the bulb from the soil and store it in a cool, dry place for 6-8 weeks.
In order to make the Amaryllis bloom again, it must go dormant for a while. If you continue to water and feed your plant as normal, your plant will stay green and significantly reduce the possibility of it flowering again. So mark your calendars and get ready for Christmas Amaryllis blooms yet again!
Amaryllis: Growing Old After a few years, your Amaryllis will start growing little bulblets off the sides of the bulb. If you want, carefully remove them just before you replant and give them in their own little pots. Make sure when you begin to divide you are ready to plant them right away. The Amaryllis is finicky about being disturbed and should only be repotted  every 3-5 years.
We want to hear from you!
Post pictures of YOUR great-looking (or even not-so-great-looking) Amaryllis plants in the comments below!
This post is brought to you by local Bangor, ME florists.
No where near Maine? No worries, use Flower Shop Network's handy directory to find a real florist near you!