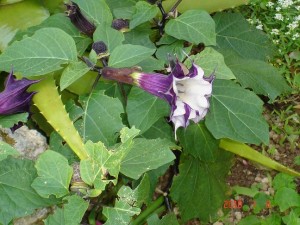 Ask The Expert: What is the differences between an angel trumpet and a devil trumpet? – Elaine
Flower Shop Network Plant Expert Reply:
It depends. Most of the time, devil's trumpet is associated with the genus Datura. These herbaceous leafy annuals/short-lived perennials have lobed toothed alternate leaves with erect flowers and spiny fruit..
Angel's trumpet are associated with the genus Brugmansia and have pendulous flowers, smooth fruit and are small woody tree/bushes. The large leaves of this plant have fine hairs along the coarsely toothed leaf margin.
Both plants belong to the Solanaceae family and contain toxins.
Hope this information was helpful. Please let me know if I can assist you with anything else!