Not For The Faint of Heart
I'm a huge fan of classic movies. I'm a little put out by the cheesy "Casablanca"-esque dates but I still swoon over a sweet surprise every now and again. Little stuff like remembering my favorite flower goes a long way. I long for the days far prefacing my birth where chivalry was the mark of a gentleman and a courtly kiss was the diary's hot entry. *sigh* If you or your sweetie are anything like me, try this cool idea for an anniversary celebration.
Let the car run out of gas. You read that right. Perhaps let it run low or keep a spare jug in the trunk but make your lady/fellow believe that you've run out of gas. I know, I know. It seems dated and lacking in creativity but it's really not! This is a great way to surprise her with something unexpected. It shows your romantic side which scores major points with other romantic people. Even the hard hearted go soft for someone who puts this much effort into celebrating their relationship.
Prepare a small meal and either have it waiting nearby or in the trunk. This is where it's helpful to note that you probably should not store extra gas and food in the same trunk. *smile* Perhaps come an hour or two before your date is scheduled and make the arrangements.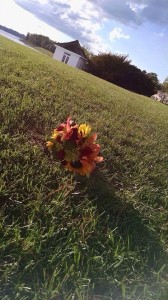 Remember to make this about you two. Dance under the starlight. Enjoy a candlelit dinner and a bottle of wine on a blanket under the stars. Present her with a corsage, a bouquet, or the cork from the bottle of wine. Wear a boutonniere of her favorite flower. There are many ways to make it special and unique to just the two of you. Whatever you choose, this is a great anniversary idea because it will be just the two of you.
Keep these things in mind
when planning your "out of gas" anniversary date:
Make sure the location is secluded enough that the preparations will be safe until your return
If the location is private property, get it cleared with the landowner first
If the location is public such as a park or main highway, consult with the authorities (park ranger, local authorities, facilities manager) so that nothing spoils the night
Bring spare gas if you plan to actually run out
Don't forget to pick up a bouquet of anniversary flowers from your local florist