Mother's Day is May 12th.



For all of the wonderful things Mom has done for you over the years, she deserves some recognition on her special day. Perhaps you were out of town or working too much last year and let Mother's Day pass you by? Sending a gift to mom has never been easier! Simply give your local florist a call and have a spectacular bouquet delivered today, straight to her door — at work or at home!
We understand you want to give mom the very best on her special day.
Tips to make sure you get the most out of your Mother's Day flower order:
Shop local for Mothers Day
Contacting your local florist ensures you get the total value for the price you pay.
Order early(ish)
This will ensure the florist uses the most beautiful flowers and delivers the order on time.
Choose the right flowers for YOUR Mom
You can usually tell your florist a little bit about your mom, and they can create something uniquely special just for her.
Send a special message
Don't leave the card blank! Send a personal message to mom with the help of our Mother's Day Card Messages.
Double check all sending info
Make sure you have provided your florist with mom's accurate name, address and phone number.
Read more about How to Send Mother's Day Flowers…
---
Corsage Inspiration: Blue



It's PROM SEASON! Time to get with your local florist to create a fab, one-of-a-kind corsage creation.
Today's prom corsages are nothing like they used to be — that's for sure. These days florists capture the spirit of youth with playful, exciting and dramatic wrists corsages that match modern fun and funky prom dresses and other trendy accessories. Today we're using BLUE as our muse as we take a look at last year's hottest designs.
The spring is a very busy time for florists, with wedding season just beginning and Mother's Day right around the corner. If you haven't ordered your corsage for PROM yet, what are you waiting for?!
See more Blue Corsage Inspiration

---
Facebook Friday: March Favorites



We recently started a Friday recap of all the wonderful posts and pictures from active florists on our Facebook Page. It's been so much fun seeing all the completely different designs every day. We hope you enjoy these favorites and continue through to see more from each Friday this month:
| | | |
| --- | --- | --- |
| First Class Flowers, Calgary AB CA | Honeysuckle Lane, Aurora NE | Designs by Vogt's, Sturgis MI |
| Paisley Floral Design, Manchester NH | MaryJane's Flowers & Gifts, Berlin NJ | Bentley Florist, Burton MI |
See all Facebook Recap pictures in these posts:
---
Big Congrats To Our Winning Members



Floral convention season is just kicking off and already our florist members are making their presence known! Check out a few of our member's latest great accomplishments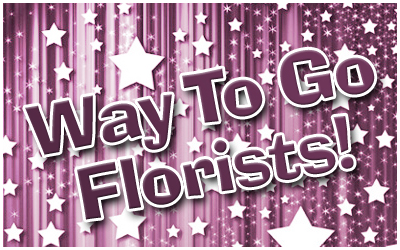 Florist Awards
Big congrats to Norton's Flowers & Gifts in Ypsilanti and Ann Arbor, MI for being voted Retailer of the Year at the Great Lakes Floral Expo 2013.
Congratulations to Doug Bates of Designs by Vogt's in Sturgis MI for being voted the 2013 Young Person of the Year at the Great Lakes Florist Expo.
"This young person has been excited about the MFA since their first conference and has never stopped.  Their energy has just kept growing. To watch them participate in classes and then in design events and competitions you can see the passion and energy in their eyes and it is contagious.  Always with a positive attitude toward the industry they have nothing but great admiration for their peers and respect for their fellow florists." – From the Michigan Florist Association Press Release
Design Contest Winners
Way to go Debbie Royal of Royal Expressions Flowers & Gifts, Blissfield, MI for winning 3rd place in the Great Lakes Floral Expo professional division design contest themed Loving Memory. Debbie also took home 2nd place in the professional division design contest themed Surprise, Surprise.
Congrats to Robbin Yelverton of Blumz… by JR Designs in Detroit MI for taking home 1st place in the Great Lakes Floral Expo academy division design contest themed It's A Party.
Big congrats to Rae Roberts-Griffith of True Colors Artistry for winning 1st runner up in the prestigious 2013 Lincoln Cup at the 2013 Illinois State Florist Association Convention.
Congratulations to Judy Fitzpatrick of Just Judy's Flowers in Pensacola, FL for winning second place in the Northwest Florida Florists' Association's February Design Contest.
Congratulations to April Ridge of Alyce's Floral Designs in Ft Walton Beach, FL for winning third place in the Northwest Florida Florists' Association's February Design Contest.
Congrats again, everyone!
I do my best to find our florists' achievements through various association emails and online posts. If I left you out, please let me know and I will add you ASAP!
Click to see All of our Convention Recaps
---
Mother's Day Style Guide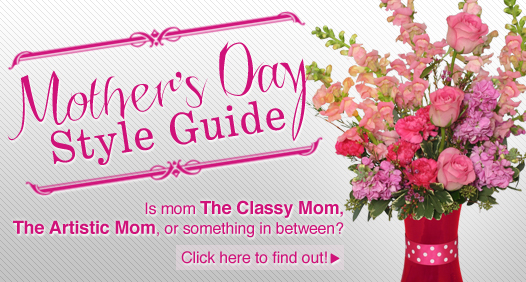 When it comes to buying flowers for Mother's Day, it can be a bit overwhelming deciding which one is perfect for mom. Don't worry, Flower Shop Network is here to help! Our flower buying style guide is your source for the perfect gift for mom! Click the banner above to get started!
---
FLOWER CARE TIP
Avoid placing flower arrangements in
windowsills and other areas with
full sun
where flowers can wilt due to overheating.
More Flower Care Tips
WE'RE SOCIAL!








Love flowers? Follow us on the above Social Networks! We are always sharing the latest articles from our Bloomin' Blog, as well as the most fascinating news on the net!
You Might Also Like



Match Making: Matching Prom Corsage To The Dress
A prom corsage is an accessory just like jewelry, shoes, purses, etc. Fashion savvy girls have really gotten involved with their own prom corsages by attending corsage bar parties.
Top 5 Mother's Day Favorites!
To get into the mood of Mother's Day we've compiled a list of top 5′s for Moms! These are great little things you can do throughout the day for your mom on Mother's Day.
How To: Personalize Your Mother's Day Bouquet
Our moms are special, wonderful people whose personalities have been with us since the beginning. So, why not include a touch of Mom's personality when sending a floral arrangement this Mother's Day? It's amazingly simple to add a touch of personality for a Mother's Day bouquet that says, "Mom, I got this for you."
Flowers Imitating Monkeys
We've all seen mimicry in nature, mostly with insects, but you've probably never seen it this clear. At first glance, you might think these living orchids are little baby monkeys! I was blown away by the incredible characteristics they share.
Need more inspiration? Check out our sister site, Wedding & Party Network's weekly blog — Inspirational Fridays!
Help make Flower Shop Network's monthly newsletter even better! Got questions? Have an idea for a story? With your help, we can make the FSN newsletter just what you want and need. You can drop us a note in the comment section on the blog or email us at social@flowershopnetwork.com. We can't wait to hear from you!