My Cahaba lilies have so many seed pods. I would like to use the seeds properly to grow more lilies. Can anyone tell me the best way to go about it? Thank you
Flower Shop Network Plant Expert Reply: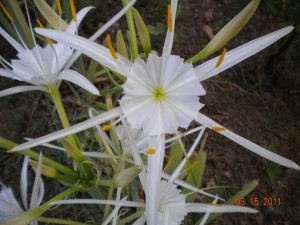 Terry
The Cahaba lily (Hymenocallis coronaria) is a little tricky when it comes to propagation. In nature this plant drops it's seed in the water where the plant is growing. These seeds then wash up on the banks of the river or water way. On the bank, they germinate and grow into new plants. Captive propagation has a very low success rate, but since the seeds are free I would give it a try.  I recommend:
Soak the seeds for 24 to 48 hrs.
Place them on top of a moist sandy-loam mixture.  I would try to emulate the soil on a river bank where the lilies are native. I am assuming this is more mucky than sandy. So try a 1/3 sandy, 1/3 top soil and 1/3 organic matter. (This is a estimation on my part since I have not actually propagated these seeds my self.)
Keep the seeds very moist until the seeds sprout.
Once the seeds have sprouted you can transplant them into the area where they will live permanently.
Good luck and please let me know how it turns out. Hope this information was helpful.