On August 19th, I had the pleasure of attending the 65th annual Arkansas Florists Association Annual Convention. With a theme like Wild Wilde Masquerade, I had no doubts that the florals would be gorgeous. And they did not disappoint. In fact, the designs were breathtaking. Take a look at a few the centerpieces for the banquet: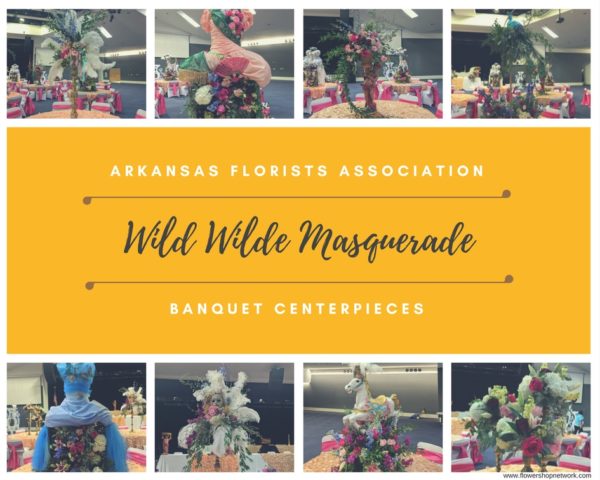 The AFA also hosted the Mid-America Cup and the Arkansas Cup design competitions. These prestigious competitions allow designers from all over the country and the state of Arkansas to showcase their talent. For the Mid-America Cup, designers were challenged to create a bridal bouquet, masquerade mask, and casket piece for Marie Antoinette. They were given guidelines for each piece which included specific holders and colors.  The 2017 Winner of the Arkansas Cup is Michelle Red, AMF, of Benton, Ar. The 2017 Mid-America Cup winner is Alison Hobson, AIFD, CFD, AMF, of Arkansas.
There were so many talented floral designers at this convention, and it was a pleasure to see their work and meet some of them. I look forward to attending more conventions in the future and meeting more of our wonderful members. Floral design is alive and well. Keep an eye our social media to see even more pictures from this awesome convention!
Want to get a gorgeous design of your own? Visit your local florist!