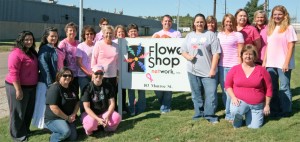 Go Pink For The Cure
Today Flower Shop Network participated in Arkansas' first ever Go Pink For The Cure Day. In September, Governor Mike Beebe declared October 1st to be Go Pink For The Cure Day to raise awareness for the prevention and treatment of breast cancer. He urged all citizens to 'go pink' to raise awareness in their business, school, religious or social group. This day will surly do great things for creating awareness of the importance of mammography and remove barriers that prevent women from seeking mammograms.
They asked us to go pink and that is just what we did! At FSN, we have been personally affected by the horrible disease. Not only do many of us have friends and family members who have succumbed to breast cancer, but one of our very own teammates fell victim not long ago. However, not all stories here are sad, we have 2 PROUD survivors!
1 in 8 women will be stricken with breast cancer in her lifetime. Until there is a cure, breast cancer awareness and early detection is the key. With early detection, we all win!
For every person who participates in Go Pink For The Cure Day, Gov. Mike Beebe asks for a donation of $5 to the Susan G. Komen For The Cure foundation. We did our part, now it's time for you to do yours!
Our local news station really promoted this event and even created a contest to get more people involved. They asked businesses to send in their pictures of their pink employees and have updated the photos throughout the day. We have really enjoyed seeing all of the local business' going pink and thought you would too. Check out FSN in the news!
Related Articles:
Send Flowers To A Breast Cancer Survivor

FSN's Hope For Breast Cancer Awareness Month
Project Hope Raises Hope Of Fighting Breast Cancer–And Winning
This post is brought to you by local Jonesboro AR florists.
Not in Jonesboro? Use Flower Shop Network's handy directory of real local florists to find a florist near you.