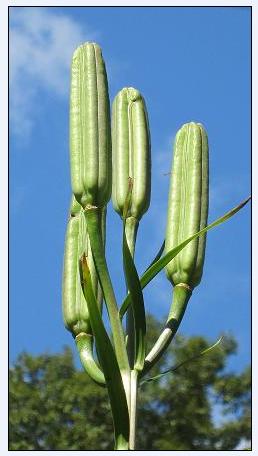 Ask The Expert:
How best to deal with the huge ovaries of a white crinum? Those are ca 1 by 4 inches. I would like viable seed.
Donald
____________________________________________________________
Plant Expert Reply:
Donald,
I am finally home from all my travels both abroad and throughout the US!
The best way to obtain viable seeds is to let the seed heads mature until they dry out and release the seeds.
Here are my suggestions for harvesting the seed:
1. Create a capture basin for the seeds. One technique for this is to take wax paper and fashion a cone around the seed pods. When the pods open, the seeds will be captured in the wax paper cone. One thing to watch for:  the seed pod stem might bend or break as the seeds mature.  If this happens you may want to remove the seed stalk from the plant.
2. If the pod dries without popping open, simply cut the pod off. Place the pod in a paper bag and store in a cool, dry place until you can remove the seeds.
3. Once you have the seeds, you will need to either plant them immediately or store them for future use.  Since the seeds naturally drop in a dormant season, you might want to store them for future use.
At our garden center, we store seeds in an airtight container and place them in the vegetable crisper of our refrigerator.
Hope this information was helpful!
Thanks,
Jamie Jamison Adams