Everyone has heard of the traditional Easter basket. It's popular enough to be sent every Easter. What many haven't seen yet is that unique baskets can make a huge difference for other holidays. Creative baskets, just like unique vases, are excellent for making the gift of flowers stand out. Want to truly grab attention? Send the same arrangement in a colorful basket.
Don't get stuck using your baskets just for gift baskets! Here are some ways that baskets can be used by both florists and gift givers to add spice to the traditional gift of flowers.
Liven It Up With A Solid Color Basket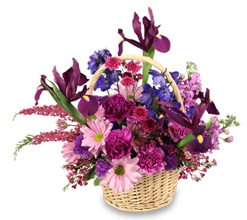 Add color to the mix with a solid colored basket! Green baskets help celebrate the luck o' the Irish on St. Patty's Day. Pastel baskets are simple for spring and summer gift ideas. Decorating for a wedding? How about a nautical reception or "bon voyage" party? White baskets work here also. Whatever the theme of the event, solid colored baskets add just enough color to be fun.
Make It About The Gift, Not Just One Component
A plain glass vase can be boring and actually detract from the flowers by showing the stems. One single color (regardless of its brilliance) does not detract from the many colors of the flowers. Even a multicolored basket draws attention back to the arrangement itself.  Liven up the gift with a colorful basket and redirect the attention to the arrangement as a whole and not just the container.
Create A Talking Piece
It's easy to discuss how beautiful a basket is once it has been woven with a complementing color of ribbon. It's easy to note how much beauty the unique basket brings to the arrangement. It's not so easy to chat up a plain Jane vase.
(Just For Florists) Talk About Baskets With Your Customers & Employees
These aren't just selling points for designing flower baskets. These are the things that your customers want to see when they come to your flower shop in search of a gift idea. In essence, they want unique and fun. They want simple and easy. They want creative and likeable. They want the gift to be loved. Unique basket flower arrangements are all of these things. You can't make them love flower baskets, but you can sure know why they do when they see unique baskets of flowers in your shop.