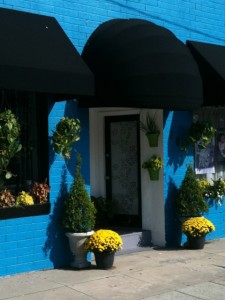 Last week, I was able to interview Tony Swick, from Bay Bouquet in Tampa, about their recent relocation to a larger, more urban-style store. The building boasts a beautiful color scheme: neutral grays and blues that complement Bay Bouquet's company brand colors. "Inside the building is very urban," Tony says, "Brand color is a feature of our building as well as our logo. We wanted to focus on our visibility in a clean, but also visually pleasing way." The outside of the building is an eye-catching, vibrant blue — the same blue used in their logo.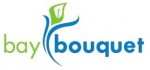 However, inside the shop is very warm and inviting; comfortable for all age groups. Tony says they, "Didn't want to overwhelm our customers with anything, except with our logo and name."
One step inside this store and you will notice it's unlike any flower shop you've ever seen. There is a high level of comfort: couch, seating area, refreshments. The store has a very urban spa-like feeling. This definitely isn't your grandma's flower shop, and will give Bay Bouquet a big step ahead in attracting younger clients. The store features a nice, open work space for easy designing, as well as volume designing. There is a private area for bridal consultation, expanding their opportunity to work with brides in a more intimate setting.
Bay Bouquet's modern look is not the only thing that sets them apart as a fresh alternative to clients seeking the best in floral design. Tony strongly believes that, "A focus on what you do best is the key to success." Bay Bouquet is getting to the roots of the floral industry, "We want to do what we do best, and that's flowers and floral designs." Tony does not keep anything that has to be stocked and in rotation, and doesn't focus on gift lines.
"We do quality, artful floral design, for every order. No matter what the order, or how much." Tony and his team don't believe in pre-making arrangements. Each design is made specifically for the client: their colors, styles, occasion and, of course, budget. Bay Bouquet's focus is on quality and service. "No matter what your volume is, make every single design your most important."
"When people go to a flower shop, they go for flowers, and that's what we do — flowers."
With his innovation, it's no wonder Anthony Swick is being inducted into the American Institute of Floral Design (AIFD) in San Fransisco this March. It is a high honor for any florist. Congratulations Tony, from all of us at FSN!
Also! Bay Bouquet was one of the first to make the switch to our premium websites because they could brand it with their company's colors. Check out their new website's sleek new look here!