About a month ago I came across a blog called Garden Muse. Cindy Dyer writes this blog which revolves around the wonders of the garden with amazing pictures of flowers, vegetables, insects – basically anything that occurs in a garden. I was instantly an admirer of this site. After all, it contained two things that I am very passionate about gardening and photography. Flowers have a depth and richness of color along with a textural quality making them exceptional subjects for pictures. I love to take pictures of the flowers in my garden. Unfortunately my passion for photography doesn't translate to skill. My flower pictures are often a pale comparison to the beauty of the flower in which I am photographing. Cindy, however, is a spectacular photographer and her flower pictures are breath taking. After seeing the lily photos on Garden Muse, I was inspired to take a picture of my new Salmon Star lily. I planted it this spring and it smells almost as good as my Stargazer lilies.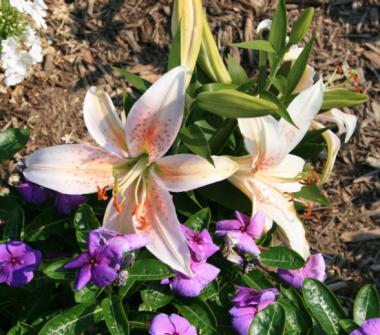 In case your interested in pictures of flowers, here are a few more from my garden.
Above is a Casa Blanca Lily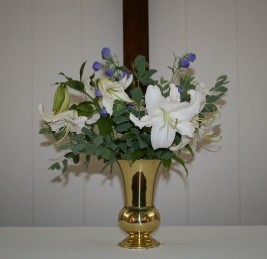 This arrangement has Casa Blanca Lilies, Platycodon (balloon flower) and eucalyptus all from my garden.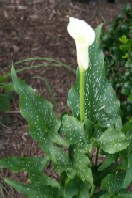 Photo of a Calla Lily from my garden.
My flower pictures may not measure up to the ones on Garden Muse but I think I'll keep trying. After all, the pictures will remind me of the flower memories and beauty that occurred in my garden during the growing season. This winter when things are cold and dreary, I'll be able to pull these pictures out and enjoy their beauty once again.