6. Express Gratitude with Fall Flowers
Thanksgiving Day is the perfect time to brighten the season with fall flowers. The colors alone are enough to bring a smile to a loved one's face or bring warmth to a cold November day with shades of red, gold, orange, brown and plum. Flowers communicate in ways that other decorations can't. They say that the day is blessed and the guests or recipients are valued.When you add the natural beauty and aroma of a fall flower arrangement to the aromas associated with Thanksgiving…
Read More About "Expressing Gratitude with Fall Flowers" »
5. All About The Cornucopia – The Horn of Plenty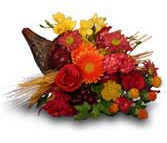 The cornucopia is a time-honored symbol of abundance, long associated with Thanksgiving. However, it was symbolic well before this holiday existed. The word 'cornucopia' actually dates back to the 5th century BC. It derives from two Latin words: "cornu," meaning horn (as in the name of that one-horned creature, the "unicorn") and "copia," meaning plenty (a relative of such words as "copious" and "copy"). Thus, "cornucopia" literally means horn of plenty …
Read More "Cornucopia – The Horn of Plenty" »
4. Thanksgiving Card Snippets
18) (Funny) Hoping these will sway your answer to the most important question of the day–Do I have to wear one of those funny pilgrim hats to dinner?
19) Wishing you warm and heartfelt blessings this holiday season.
20) May the turkey be plump and your tummy full. Or is it the other way around? Happy Thanksgiving!
Read More "Thanksgiving Snippets" »
3. Say Hello To Falls Abundant Beauty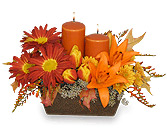 Need a gift for a Thanksgiving celebration? Throwing a festive fall party but need something to liven up the decorations? This fall flowers centerpiece is for you. Fall flowers add cheer faster than Uncle Bob's silly jokes, so fall in love with the Abundant Beauty centerpiece this year. Don't be surprised if your other decorations get jealous. Candle wreaths are very popular but the "Abundant Beauty" centerpiece adds a great deal to the traditional idea…
Read More about "Say Hello To Fall's Abundant Beauty"»
2. Fresh Flower Decorating Tips For Fall
There are a lot of ways to decorate a home for fall. For starters, you're going to need plenty of fresh flowers. Dried and preserved will work, of course, but there is something sensuous and inviting about fresh flowers. They just start the season off right. Besides, as the leaves begin to fall and the colors burst then fade, you're going to like having the fresh flowers around as you welcome winter weather into your home.
Read More about "Fall Fresh Flower Decorating Tips" »
1. The Perfect Hostess Gift For Thanksgiving

Every year I'm invited to an elaborate Thanksgiving party, and must greet the occasion with an air of Southern hospitality. Many people have heard the common rule, "Never arrive to a party empty-handed." It's one of those understood rules of etiquette that can be a bit hard to carry out in a unique way for yearly occasions such as Thanksgiving gatherings. However, I recently learned of a very fun and festive gift for the hostess.
Read More About "The Perfect Hostess Gift For Thanksgiving" »