National Boss's Day — a holiday set aside to pay tribute to the awesome supervisors who make our day-to-day lives a little more bearable. Hopefully you all have great bosses too! Your boss, for better or worse, deserves at least one day of recognition. This year, feel free to express a little gratitude and send a little token of your appreciation. National Boss's Day 2010 is October 16th, so you have plenty of time to find the perfect gift!
It's a good idea to get together with the rest of your office and chip in on something your boss will really enjoy. Your local florist has TONS of great options ANY boss would enjoy.
1. The Candy Gift Basket
If your boss has an insatiable sweet-tooth, there is no better option than a candy-filled gift basket! Your local florist can create this as large or as small as you would like. Get one big enough to have snacks for the whole office! (Your boss's waist line will thank you!)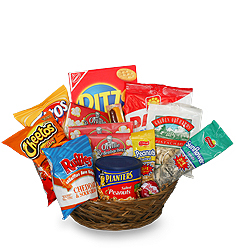 2. The Salty Snacks Gift Basket
Snackers beware! This is a great gift for a boss who loves to snack around 3pm. Filled with their favorite salty snacks, this is sure to be a hit!
3. Fresh Fruit Gift Basket
If your boss is more of a health nut, then the fresh fruit gift basket is a great choice! Some florists even offer an exotic fruits gift basket;. This unique gift will thrill any granola-loving boss!
4. Personal Care Gift Basket
Every boss needs a little relaxation! Send them a gift basket filled with great personal care products: bath salts, aromatherapy candles, massage lotions, and other paper-me products.
5. Mug Flower Arrangement
Coffee mug floral arrangements are a great mix of practicality and aesthetics. Your boss can admire their beautiful bouquet, and have a coffee mug from you and your co-workers for years to come.
6. Friendly Flowers
Nothing expresses gratitude like sending flowers. A friendly bouquet is a classic Boss's Day gift idea.
7. Flowering Plant
A flowering plant for your boss's desk is a great little office buddy to keep them company for years to come. Many florists offer a wide selection of flowering and green plants.
These are just a FEW of the many Boss's Day gift ideas you can order from your florist. The best part is — they deliver, and a surprise gift always makes the gift even more special.
This post is brought to you by local Newark DE florists.
Not in Newark? Use Flower Shop Network's handy directory of real local florists to find a florist near YOU!