If you need a boost of creativity this summer, get out to your local botanic garden. If you're a florist, or just a flower-lover, there are huge benefits to visiting gardens FULL of summer beauty.
Get In The Mood For Summer – The gardens will definitely put you in the right mood for the season. The vivid colors of the flowers and the incredible variety you will see will certainly set you on a course for inspiration.
Be Impressed – At a botanic garden, you will see dozens, if not hundreds of unique flowers, plants and trees that you probably have never even heard of before. The surprise is, they are actually growing in your area! (It's always astonishing to me to see just what's possible in my area with a little love and some hard work.)
Keep Track of Creativity – Most botanic gardens divide their grounds into several themed smaller gardens, such as butterfly gardens, four seasons gardens, Japanese gardens, etc. These can be very inspirational. Carry a journal along with your camera to keep track of color patterns you see, creative use of flower pairs, and anything else than inspires you.
I am fortunate enough to live close to the Memphis Botanic Garden, which offers visitors 96 acres of small gardens and trails, thousands of flowers, but also thousands of unique trees. That is one thing to keep in mind when visiting the gardens — Look Up!
With 152 different species of trees, the Memphis Botanic Garden is classified as a Level IV Arboretum by the Tennessee Urban Forestry Council. This Level IV designation makes the Garden one of four in the state and the only one in West Tennessee. "We estimate there are at least 2000 trees in the Garden – with lots of duplicates," says Adult Education Manager Laurie Williams.

One very unique tree you will find at the Memphis Botanic Garden, Cedrus Atlantica 'Glauca Pendula,' the Weeping Blue Atlas Cedar (above),  is a tree native to the Atlas Mountains of Algeria and Morocco and is a large stunning evergreen that displays a unique lateral growth pattern. "Atlas (species or weeping) is the best true cedar for our area," says Director of Horticulture Rick Pudwell.
Because of similar climates, Asian plants thrive in the Garden. Some unique species found on the grounds include Pinus thunbergiana, Japanese Black Pine, Pinus densiflora, Japanese Red Pine, Castanea mollissima, Chinese Chestnut Tree, and Sciadopitys verticillata, Japanese Umbrella pine.   A unique cultivar of a verigated  Japanese Red Pine is located in the  the Japanese Garden and is especially beautiful in the fall months of the year.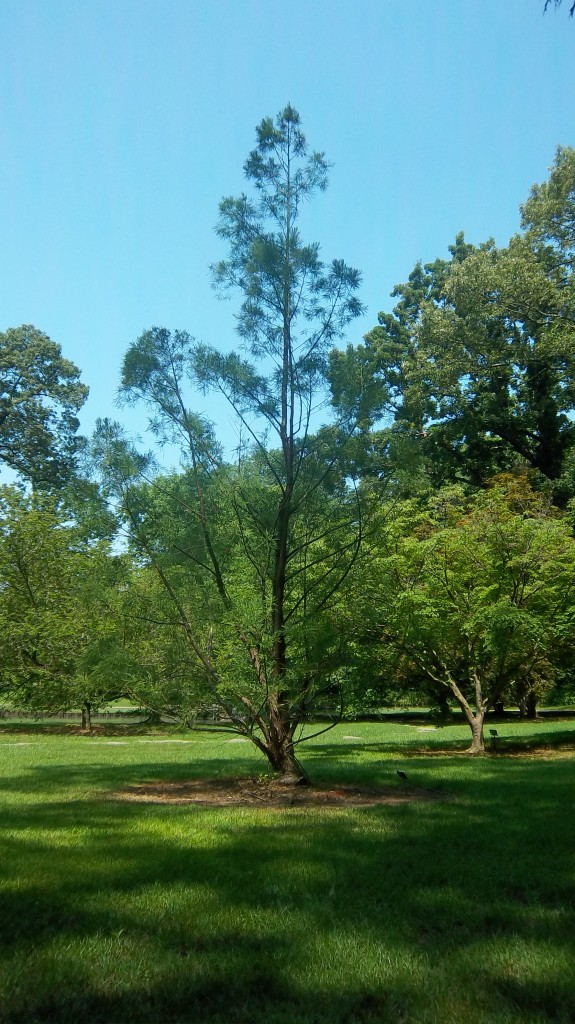 When Glyptostrobus pensilis 'wooly mammoth', Chinese Water Pine (above), was planted about 10 years ago, there were only four in the United States.  It's a deciduous conifer and the only living species in the genus – with fossils dating back to the late Cretaceous period. The Chinese Water Pine is a very rare tree; there is only one on the grounds.  The horticulture staff has successfully propagated them and currently are caring for several small ones in the Garden nursery and green houses.
With over 800 trees classified on the grounds, the Memphis Botanic Garden offers a living classroom for tree enthusiasts to view, study, photograph or just simply enjoy the beauty and the peaceful surroundings enhanced by this vast array of trees.
Do you know what your local botanic garden has to offer? Now's a great time to find out! Even if you have to take a short road trip — it's worth it! You will be beaming with creativity and overflowing with new-found love of more than flowers. So, get out and get inspired!

Thanks to Bonnie Grosshans for sending us this great info on the MBG trees.
A BIG thanks to the Memphis Botanic Garden for helping us with our toughest Ask The Plant Expert questions.