Living with four sorority girls that are in serious relationships can lead to many "When I get married…" conversations. While discussing our dream wedding dream wedding plans, I asked "When would y'all want to get married?" Of course, we all had some idea, but one roommate had only one thing planned — her flowers. "I just want sunflowers, so my wedding will be planned around their season. My fiancé will just have to understand." I'm sure he will.
Planning A Wedding With Sunflowers
Sunflowers are typically warm-weather bloomers. If you are in the same boat as my roommate, it's best to plan your wedding between May and October. Although most florists are able to order sunflowers year round, they are  usually much more affordable when they're used in season. Sunflowers have a long season which allows the flowers to be used for summer and fall weddings. The sunflower is the perfect statement piece, and the placement is all up to the bride. Sunflowers are great for bouquets, arches or center piece. With so many placement options, they make flower planning a breeze.
Did I mention sunflowers look great in different themed weddings?
Planning a wedding can be (and most likely is) a difficult task, but why? My theory is that, as women, we want it all. I want a country wedding, but then I also want a beach wedding. It only happens once, and it's hard to choose. Sunflowers can be used in many different themes, such as: southern rustic charm, country elegant weddings, beach weddings and outdoor weddings.
The pop of yellow makes it versatile for any arrangement. I have seen the most beautiful arrangements using colors I would have never thought to put together. Mixing a sunflower in a bouquet of red, blue and green was just the right mix of color to catch my eye as the bride walked down the aisle.
Sunflowers —  Also Versatile in Seasons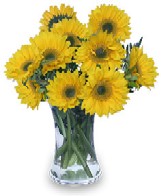 Sunflowers for Summer Weddings
For the summer, sunflowers have a fun effect on your wedding. Sunflowers can be used as an accent piece in your arrangements, but if you want to go all-in contact your florist for a solid ball of sunflowers. Smaller "Sunballs" or sunflower pomanders can be used for decorations or a large one can be used as your bouquet. The "sunball" bouquets are perfect for a country wedding. They are simple, yet breathtaking statement pieces. For an extra rustic touch, try adding brown vine to hide the stems or add brown vine for height.
Sunflowers for Fall Weddings
Summer isn't the only season popular for sunflowers. Sunflowers are a huge hit for fall weddings. For the perfect fall wedding try decorating with pumpkins and gourds. The more bumpy and imperfect they are, the more of a unique effect they have on your wedding. With the green, yellow, orange and white colors in your gourds are out to play add a few sunflowers, daisies and green succulents to create the perfect mix of natural fall colors. For an outside wedding pair these colors with wood decorations for a rustic theme or for an inside wedding pair these flowers and gourds with copper for a sophisticated look.
So if you're wanting to add a little sunshine to your upcoming wedding or event, talk to your local florist about using sunflowers!