The calla lily is one of the most beautiful and widely used flowers in the florist's arsenal. Brides everywhere love the simple, yet elegant look of the calla lily and it has become a staple in wedding flowers. Keep reading for more about the calla lily with lots of great pics and ideas.
CALLA LILY/
ZANTEDESCHIA

Use: Flower
Type: Tuberous Perennials
Height: 12-36″
Name Meaning: Regal, Beauty
GROWING
Requirements: Humus-rich, moist but well-drained soil. Full sun to partial shade.
Makes a great houseplant.
DESIGNING
Blossom Size: 1-8″ tall
Texture: Waxy
Fragrance: None

Silhouette: Dense/Round
Vase Life: 7-10 Days
Colors: Large Variety
Bloom Season: Late Spring
Flowers Available: Year Round
ABOUT CALLA LILIES

What's in a name? The calla lily is actually not a lily at all; nor is it a Calla. So how did this impostor get it's name? What we think of as 'calla lily', actually refers to plants in the Zantedeschia genus, named after Italian botanist Giovanni Zantedeschi. These plants were once in the genus Calla but through advanced research it was later determined to not be closely related to other Callas. Other names for Zantedeschia are: calla lily, arum lily, trumpet lily, and pig lily.
The calla lily is native to South Africa and grows naturally in marshy areas. It will remain evergreen as long as conditions are right and only goes dormant when water is scarce. For being native to tropical regions, this plant is surprisingly very hardy and can stand fairly cold winters. The common, white Zantedeschia aethiopica, for instance, can survive winter temperatures as low as -9 °F.
CALLA LILY: A WEDDING FLOWER FAVORITE
Style and elegance make the calla lily a wedding favorite. Callas look fabulous with all wedding decor because of their unique, funnel shape which imitates a champagne flute.
Calla lily wedding flowers are perfect for any bride. Choose the giant, white calla (Zantedeschia aethiopica or Easter Lily) for sheath bridal bouquets. For the fun and funky bride, go with dark 'black' calla lilies (aka Schwartzwalder) paired with other unique flowers. Because of their unique shape, they are definite stars in any mixed bridal bouquet!
Rising in popularity are the green and orange calla lily wedding flowers. Many brides are springing for an all-green wedding bouquet and green callas couldn't be a better fit.
Callas are a true favorite for florists because of their unique properties. Calla lilies can be very sturdy and straight, perfect for emphasizing line in floral designs. When slightly dehydrated, they become incredibly flexible and are great for accentuating curves in floral arrangements.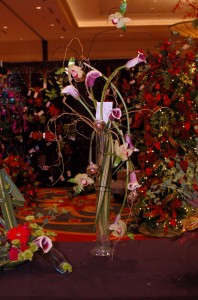 Floral designers aren't the only ones to use the calla lily as their muse. Calla's have been an inspiration to artists all over the world. Probably the most famous of these is Diego Rivera. He painted many vibrant scenes of flower vendors in Mexico harvesting calla lilies.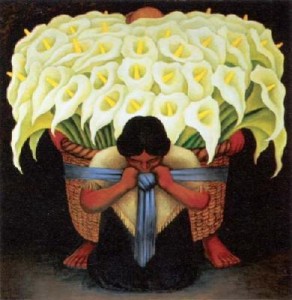 Contact your local florist today and send a calla lily arrangement to your someone special.
This post is brought to you by local Fargo, ND florists.
Not in Fargo? Use Flower Shop Network's handy directory to find YOUR real local florist!