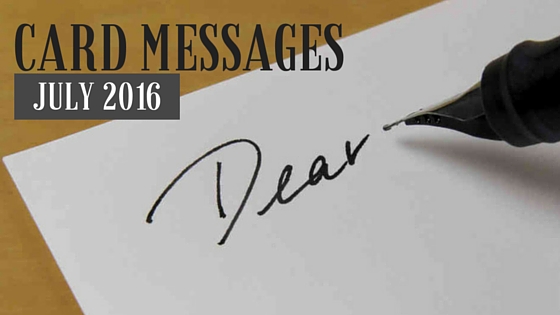 With Summer heating up, don''t let your card messages cool down!  Here are a few ideas to keep your messages feeling as warm as the sun.  
International Kissing Day
From our first kiss to our last, kissing you is one of my favorite things to do.  
If each petal represented a kiss, know that I would keep each one forever.
Sympathy
In these dark times, remember the sun will continue to shine, just as the memories of your loved one will continue to light up your life.
Your loss is heavy in my heart.  Best wishes to your family from mine.
Birthday
Today is your day!  Let loose and let the fireworks fly!
Celebrate your day with some fun in the sun!  Happy birthday!
Parents' Day
Thank you for putting up with me/us after all these years!  Love, your son/daughter/kids
I couldn't have asked for a better set of people to call my parents.  You are my motivation and inspiration.  Thank you for always being there for me, and helping me along the way.
Sending flowers is a great way to brighten someone's day! Head to your local florist to send yours today!