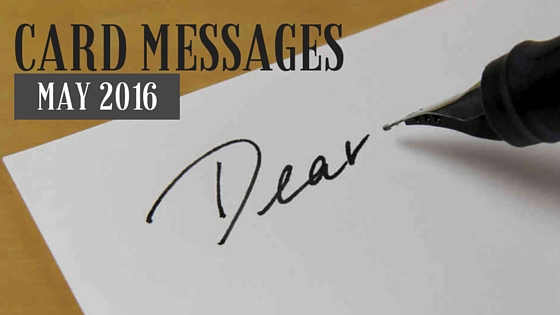 It's always nice to have a thoughtful message going hand in hand with an arrangement of stunning blooms. Below are card message ideas to inspire the act of giving and the writer in you!
I Love You
My love for you is indescribable! Words are not enough to express the way you make me feel.
I hope these flowers work transcribing my never-ending love for you.
The most wonderful moments in life have been with you by my side.
Rest assure knowing you're the one and only love of my life.
Friday 13th
I hope these flowers brighten your day as unfortunate events unfold!
Don't take anything that happens today so serious, after all it's Friday the 13th!
Get up if you fall and laugh at yourself before anyone else does!
Memorial Day
The memory of _____ will live forever in our hearts.
His/her fight for us was not in vain, look around, he/she is the reason we are here.
Many blessings to you and your family.
It's hard to lose someone so loved, specially under these circumstances.
Be proud to know that their sacrifice allowed us to maintain our freedom.
Best of wishes to your family.
* Bonus *
Were you not able to send flowers to the beautiful mom's in your life? It's never too late! Here are some card message ideas for a belated Mother's Day gift.
Mother's Day
I did not forget about this very special day,
I just wanted to be the last one to say Happy Mother's Day!
You are the ground that keeps me connected to my roots, you are everything and more.
Thank you for loving me just the way I am!
Head to your local florist and find the perfect arrangement for your lovely relatives and friends! Visit our Bloomin' Blog for ideas and inspiration.