All of the joys of motherhood start with that first baby bundled in your arms. New mothers will find they are the focus of an entire day of celebration on May 12th, 2013. On Mother's Day, we honor our mothers because they are the most important people in our lives. For all the love & support they give, special thanks are definitely in order. For new moms, those traditions are just starting.
If someone in your life recently had a baby, or is expecting, take advantage of this unique opportunity to wish them Happy 1st Mother's Day!
Gift Ideas For First-Time Moms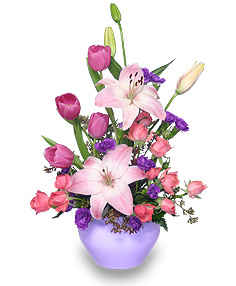 A beautiful flower arrangement on her first Mother's Day is sure to be remembered.  Check out this fun FSN Style Guide to help select flowers that are a prefect compliment to her indiviual style. Contact a nearby flower shop to place your order early.
Few things are appreciated more than a meal you didn't have to cook yourself. Surprise a busy mom by jumping in the kitchen to whip up something tasty. Cooking not your thing? Order from her favorite restaurant. She will love having the night off and probably swoon if she doesn't have to do the dishes either!
A sweet surprise for expecting moms – send fresh flowers from your local florist and have them sign the card from the new baby. You'll be jump-starting a long tradition of love and celebration. Cards that read "I Love You Already" or "My Heartbeat Will Always Be With You" signed with the new baby's name will be sure to melt her heart.
What sleep deprived mom wouldn't love a break? Offer to help around the house with laundry and picking up toys. For an understated gesture, casually leave a card with her favorite candy in a place she'll find it later, maybe when the house is quiet.
All mothers deserve warm Mother's Day wishes.
This year, don't forgot how extra special it is to be a first-time mom!