Easter will be here the very last day of this month, March 31st. Can you believe it? Whether you've been stocking up on egg dye, or completely forgot (it happens), we're taking a look at how you can perk up your Easter activities with the aid of flowers!
The Easter Lily
First of all, we can't forget the spiritual significance of the holiday. For many, the white Easter Lily symbolizes purity, virtue, innocence, hope and life. According to the legend, lilies were found growing in the garden of Gethsemane after Christ's agony. Tradition has it that the beautiful white lilies spring up where drops of Christ's sweat fell to the ground in his final hours of sorrow and distress. You will find white lilies gracing pulpits, churches, and other places of worship. (Learn more history and fun facts about lilies here.)
Easter lily poem:
Easter morn with lilies fair
Fills the church with perfumes rare,
As their clouds of incense rise,
Sweetest offerings to the skies.
Stately lilies pure and white
Flooding darkness with their light,
Bloom and sorrow drifts away,
On this holy hallow'd day.
Easter Lilies bending low in the golden afterglow,
Bear a message from the sod
To the heavenly towers of God.
-Louise Lewin Matthews
Easter Baskets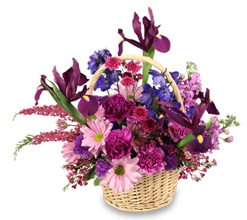 Who says Easter baskets have to be for kids? Why not send a colorful basket of flowers to your favorite far-away relative? Or maybe ones not-so-far away? And who says you can't order flowers for yourself? No one! A lovely basket full of beautiful flowers not only enhances home decor, but also puts you in a springtime mood.
There are many different options when ordering Easter baskets from your local florist. You might choose something like what's pictured left — a colorful, springtime treat. Or you could go with something a little more elegant, such as an all-white basket of flowers with a braided vine handle. Stop by your local florists' or friend them on Facebook to preview their Easter collections. And if you don't see what you're looking for, don't be afraid to ask! (Read more about how baskets make all the difference.)
Kid's Easter Baskets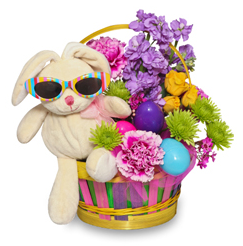 It's no secret kids love ANY holiday that involves candy and toys. Easter is one of the most fun holidays for kids: the egg dying, egg hunting, Easter Bunny, and all that candy.
This year, instead of a basket full of candy, why not fill it with other Easter and springtime favorites, such as flowers! I know what you're thinking, "Flowers for kids? No way!" But really, flowers teach kids about spring and the changing seasons. Kids also learn about the different types of flowers and how to take delicate care of them. It can't be all flowers to excite kids though. Include little plastic eggs filled with candy, bunny stuffed animals and other favorites.
(Click for more Easter ideas for kids)
Easter Card Messages
Don't forget the card message! You can't send someone flowers and leave out the message! FSN has you covered with our list of Easter Card Messages.
When celebrating Easter with flowers, just remember to always always always use a real local florist when sending flowers.