What Is Sweetest Day?
Looking for a reason to send a gift? How about Sweetest Day!  Never heard of it?  Well, it is the holiday that celebrates kindness and appreciation.  Sweetest Day is a fantastic way to show your appreciation for a special person, to remember those who are alone, or give back to the unsung heroes of your community.
Gifts are extra special when unexpected and given as a form of appreciation or simply just because. Those receiving a Sweetest Day gift are usually caught completely by surprise.  After all, no one expects a gift/treat on Sweetest Day like they do on Halloween, Christmas or even Valentine's Day.  The element of surprise and sheer kindness in these gifts is what makes Sweetest Day so awesome.
The History Of Sweetest Day!
Celebrated on the third Saturday in October, Sweetest Day is a tradition that is often forgotten, but has a deep and chocolaty rich history.  The concept of this tradition began with a philanthropist and candy employee named Herbert Birch Kingston. Feeling the weight of  his good fortune and seeing the plight and misfortune of others, Mr. Kingston saw the need to brighten the lives of others.  Understanding the need all people have to feel appreciated, he wanted a day that recognized people simply for being people.  So drawing from his candy background, Mr. Kingston conceived the idea of a holiday that would give candy and small gifts to the underprivileged, shut-ins and orphans in his local community.
In October 1922, with the help of his friends and even a few movie stars, Mr. Kingston held the first Sweetest Day in Cleveland Ohio.  One movie star who took up the cause gave all the newspaper boys boxes of chocolates as his way to thank them for their service.  Local movie-goers were treated to candy by a movie star as they watched her film.  Several elderly people were given chocolates as a way to brighten their day.  All in all, the day was a resounding success.
Who Celebrates Sweetest Day?
This "just because" holiday is regionally rooted and celebrated mostly in the Great Lakes area. Of course, Ohio leads the country in most participants giving gifts on Sweetest day followed by Michigan and then Illinois. However, Sweetest Day is celebrated more than in just the Great Lakes. Texas and California round out the bottom of the top ten cities that celebrate Sweetest Day.
This tradition is one that really stems from the heart of people.  The foundation of this holiday – to give gifts simply as a thank you for being – is the essence behind true human kindness.  Although Mr. Kingston sought to bring joy to the forgotten, such as those with disabilities and the elderly,  Sweetest Day has become so much more.  It is the one day we can all "love thy neighbor as thyself" by showing people we care and appreciate them.
How I Celebrate Sweetest Day!
I love to give rich creamy gourmet chocolates on Sweetest day.  Imagine giving a gift of chocolate to an unsuspecting person just because they made your day special.  Do you know how great that makes you feel? Show someone how much they mean to you. Give them a boost. It's a wonderful feeling.
This giving tradition is a great one! This year my local flower shop is delivering a gourmet chocolate gift basket to a friend who has encouraged every one of my projects.  Throughout our very long friendship, she has always been the first one to volunteer her time to help out any of my causes and any of her other friends.
Along with sending my friend a gourmet gift basket, I may stop by my florist and pick up a few blank greeting cards.
This way I can write a special message like the quote from Scott Adams (Creator of Dilbert): Remember there's no such thing as a small act of kindness.  Every act creates a ripple with no logical end. This quote certainly suits the idea behind Sweetest Day. Then I am going to give these Sweetest Day cards with a candy bar to random people, as I go about my day on October 17.
How You Can Celebrate Sweetest Day!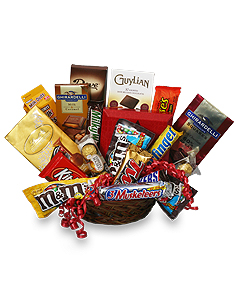 Maybe you're more of a flowers and chocolate type.  That works just as well.  Pick up a few floral arrangements or a few flower bouquets and small boxes of chocolates. Take them to a couple senior citizens in the hospital or nursing home or a war veteran to show your appreciation of their service to our country.
One year, one of my friends sent a huge gourmet food basket with chocolates and fruit to our local dog catcher.  Why? Because she saw how hard he worked one day trying to get a litter of puppies out of a road water drain. Knowing what a thankless job being a dog catcher is, she wanted him to know she appreciated his effort to save some puppies.
Even as an employer, you can use Sweetest Day to say thank you to an employee that goes beyond their job duties to make everyone's day better.  Sometimes a good old fashioned "thank you" and box of chocolates can express how much someone's action make everyone's day go better.
Why Add One More Holiday To The List?
Sure we have many gift giving holidays or special days set aside. Christmas, Halloween, Valentines Day–all of these holidays are gift giving occasions.  Yet, Sweetest Day is more than gift giving. It is a way to say thank you to those who have given of themselves; to give to those who do not always get recognized; to demonstrate that someone does care.
I am certain all of us can think of one or more people who have touched our lives in one way or another. Isn't it time we pick up the old tradition of Sweetest Day and help Mr. Herbert Birch Kingston realize his dream?
For more interesting articles like this one, visit FlowerShopNetwork.com and the Bloomin' Blog.