It's no secret, Christmas is our favorite holiday here at Flower Shop Network. We can hardly wait to take down our Thanksgiving decor and trade it in for Christmas trees and holiday lights. It could be because we are spoiled with a delicious, catered lunch, or the dozens of presents (mostly ridiculously silly, gag gifts, but those are the best, hah!) under the 5 trees! So, here's a little tour of what we've got going on this year:
Christmas isn't complete without our annual Christmas card from Kinley!
Here are a few of the Christmas cards we've gotten at FSN! Thank you guys!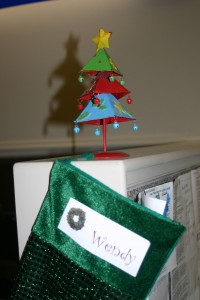 Everyone has a stocking!! Here is Wendy from FGmarket's stocking and her tiny Christmas tree!
Christmas trees! Each department decorated their own Christmas tree. (The purple one is in my office. We went with a Wedding and Party Network theme!)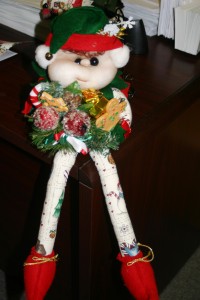 This adorable Christmas elf decoration sits on Tracy's desk to greet our visitors!
Not to make you jealous, but here's our delish catered lunch! And what Christmas party is complete without homemade desserts — especially a rack full!?
So,
FROM ALL OF US AT FLOWER SHOP NETWORK
WE HOPE YOU HAVE A WONDERFUL HOLIDAY AND A HAPPY NEW YEAR!