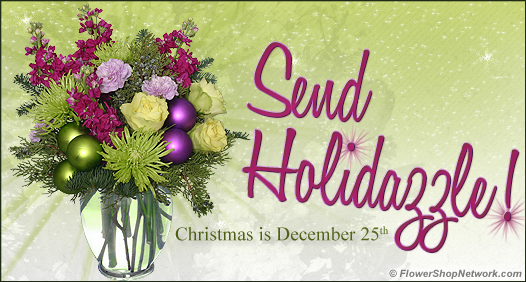 By now you've probably got all of your Christmas decor up, shopping mostly done, and are looking forward to the last of the holiday parties. Have you gotten a hostess gift yet? If not, your florist has you covered! Skip the busy mall and visit your local flower shop for the best selection of holiday flowers and gifts.Think flowers are a bit old fashioned? Think again!! Contemporary Christmas floral styles are incredible and will have your hostess' jaw on the floor!
From traditional red and green, to bright and colorful, your florist can do it all! Going to a themed Christmas party, or know the specifics of your hostess's decor? It's not to late to order something completely custom! (But you better hurry)
Need a last-minute gift for the person who has everything? Flowers of course! Order now and your florist will take care of all the hard work for you! Your beautiful Christmas arrangement will be delivered right to their door. No wrapping, on time and hassle free — what could be better than that!?
Just check out these DAZZLING styles:
Flower Shop Network
is dedicated to helping you connect with your local florist. When you select any arrangement on our website, you instantly are connected with the closest florist in your area. You can also use our handy
florist finder
to find your florist directly! Either way, we encourage you to use a real florist; it's the best deal for you
and
your community!